An object that displays various contents using images in the space.
Method of operation
1.Refer to Space Object Installation and set basic items
* Select "Image Space Object" as the type of space object.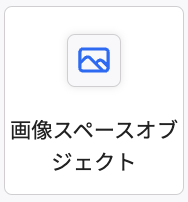 2. Enter "Image URL" or click "Upload Image" to upload a local file
3. Specify "Width and Height" in pixels
*You can also change the size on the edit screen.

4. Adjust "Shear" in XY direction
It can be set in the range of -60° to 60°.
X shear angle

Y shear angle

5. Select "Option settings" from the pull-down
Select an action when clicking the image on the space.
| | |
| --- | --- |
| | Nothing happens. |
| Image popup | Display another image or GIF on the space for a certain amount of time.Also set the following items.・URL of the image to be popped up ・Display time (in milliseconds) |
| Link | Opens the specified web page.Also set the following items.・Hyperlink URL ・Necessity of "Open link in new tab" |
| Text | Display the contents entered in the text editor.Also set the following items.·content |
5. Click "Save"
Tips
Editing of image space objects cannot be performed from the space.