The first step to onboarding your team is getting them into your new oVice Space! It's as simple as sharing out the space URL, but if you employ a few of the tips and best practices below, you can help make it a seamless process for your team!
Consider User Roles
To help you set up and manage the workspace, you might want to create additional Admin users. For ongoing workspace users, such as employees or other team members, you'll want to set them up as Members. In either case, they'll need to register for an oVice account before you can assign their user role.
All space Members and Admins must be registered users. Signing up as a registered user (a Member or an Admin) ensures they'll have full access to all of the tools, features, and objects in a space, and that their avatar will display in the user list even when offline. Un-registered users are Visitors or Guests: they may not have permissions to interact with all of the objects and resources in a space, and none of their settings will be saved between visits.
Learn more about User Roles HERE.
Share the Right Link
The base link to your space will always default to your Lobby. Our access form that displays from the Lobby has 3 parts:
Visitor Access Form
Login Form for Members
Registration Form for New Members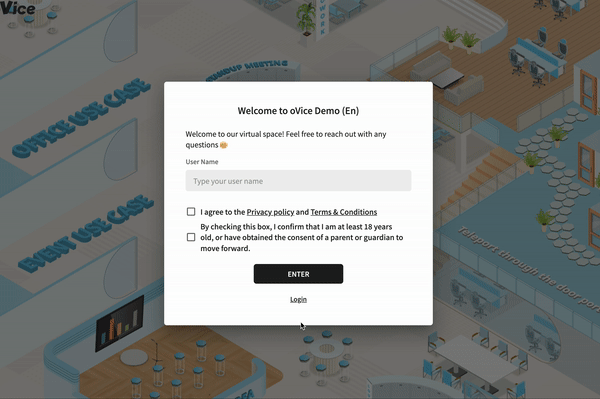 To ensure the best experience any time you invite someone to your space, we recommend sharing a more specific link to the invitee:
| | |
| --- | --- |
| Base Link | https://yourdomain.ovice.in/ |
| Guest/Visitor Access Link | https://yourdomain.ovice.in/lobby |
| Registered Member Login Link | https://yourdomain.ovice.in/login |
| Registration Form Link | https://yourdomain.ovice.in/register |
A more specific link prevents invitees from confusing the Guest Access form for the Login or Registration form, and thinking they've registered or signed in successfully when they've entered the space.
Include Helpful Links
Along with the best link option, we always recommend including helpful resources for users new to oVice. As with any new tool, if new users know what to expect and how to navigate the space, their onboarding experience will be much smoother. Consider adding these links to your invitations:
Setting Registered Users' Roles in the Space
One your users have registered successfully, you'll be able to set their User Roles in the Space Settings Admin backend. Initially, they'll appear in the Space Settings > Users > Guests List. Users that successfully registered will display their email address in the list. Unsuccessful registrations will not include an email address.
Find your user in the Guests list, and click the blue AUTH button. A User Setting window will appear, and you may choose your preferred User Role for that user from the drop-down list. Click Save. Repeat for each registered user.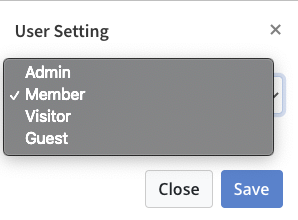 Your updated Members and Admins will now appear in the Space Settings > Users > Members List. Should you ever wish to change a user's role in the future, you can repeat the AUTH process from the Members list.
Member Approvals for Private Spaces
If you have set your space to Private (without knocking), registered users will be able to send a request to join your virtual space and you can decide whether to approve it or deny it.
You'll need to update your Space Settings > Users > Waiting for Approval List. If you choose to Approve a user, they'll automatically be added as a Member in your space.