Welcome In!
Have you been invited to visit an oVice space as a Guest? It's quick and easy to join!
Simply click on the link you were provided, and you'll land in the space's Lobby. Select the Guest tab. You will be met with a simple form requesting your User Name (the name that will be displayed below your avatar). This can be any name you wish - it will display for the duration of the current visit, but will not be saved for future visits.
Fill in a User Name, check the Terms & Consent boxes (all oVice users must be at least 18 years old or have the permission of a parent or guardian to use), and click Enter.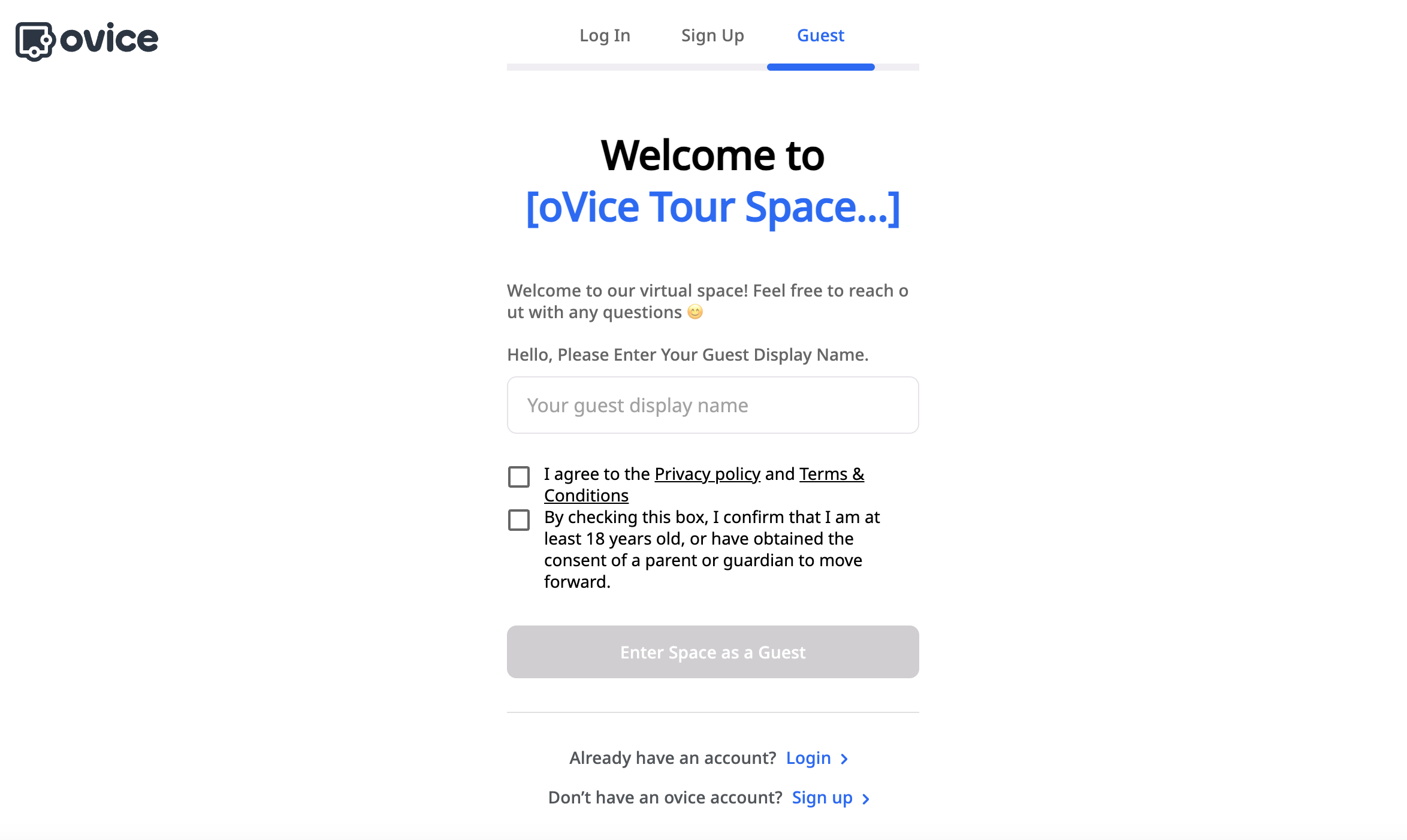 You will be prompted by your browser to allow oVice to access your microphone and camera. To get the most out of oVice, we recommend allowing both.
A Device Settings window will automatically pop up to ensure you have the correct camera and mic selected. Verify the selections, add a camera effect if desired, and click Enter.
Click to Start, and you're in!*
For more tips on interacting with the space and other users, check out our complete User Guide HERE.
* this process applies to public oVice spaces. If the space you are trying to access is set up as a private space, you may be prompted to request admission, and someone inside the space will let you in. Contact a space admin if you are having difficulty accessing the space.
Tips
Display when accessing as a visitor



(1) Visitor: When you hover your cursor over it, a visitor description and a login button will be displayed.

② Login: You can re-access the space after logging in to your ovice account.

③Visitors without an ovice account: Displayed when hovering over the avatar.

④Visitor icon: Displayed on the left of the name holder of the display name.

* ③ and ④ are also displayed to other users on the space.

If you access the space without logging into your ovice account, your display name, avatar, and other personal settings will not be saved.
Each time you access it, it will be recognized as a different account.
You cannot access spaces that are set as private spaces or that have access restrictions set in the access permission settings.
If the space has an intercom set up, you can request access from the "call" button that appears.
intercom function