Google Workspace Calendar status can now be linked with oVice!*
*Please note, only registered users in oVice can set up the calendar integration.
If you are a member of multiple oVice spaces, you will need to follow the steps below for each unique space.
Users with Permissions to Set Up
Connect Google Calendar to Your oVice User Account
Log into your oVice space with a registered account [Registration URL: https://app.ovice.in/register]
Click on your avatar or on the settings gear in the bottom horizontal menu bar to access your Personal Settings, and go to the Integrations Tab
In your personal settings, click on Connect Google Calendar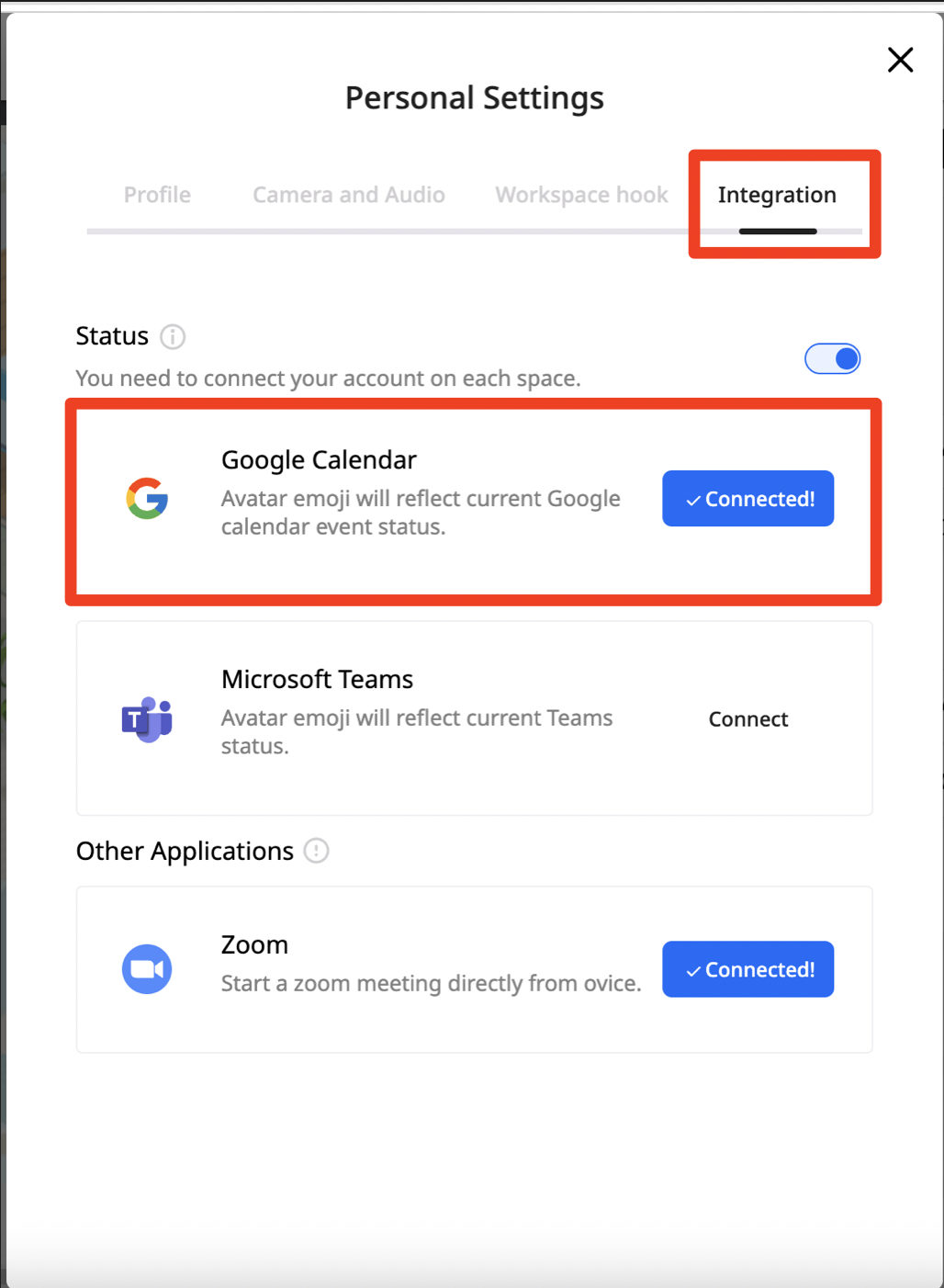 4. The Google Account login window will pop up. Choose and sign in to your preferred Google Workspace account, and click Allow to enable access permissions. If you connect your personal Google account, be sure to select the permission checkboxes for accessing the calendar.
When successful, an authentication message will display. Click CLOSE to finish.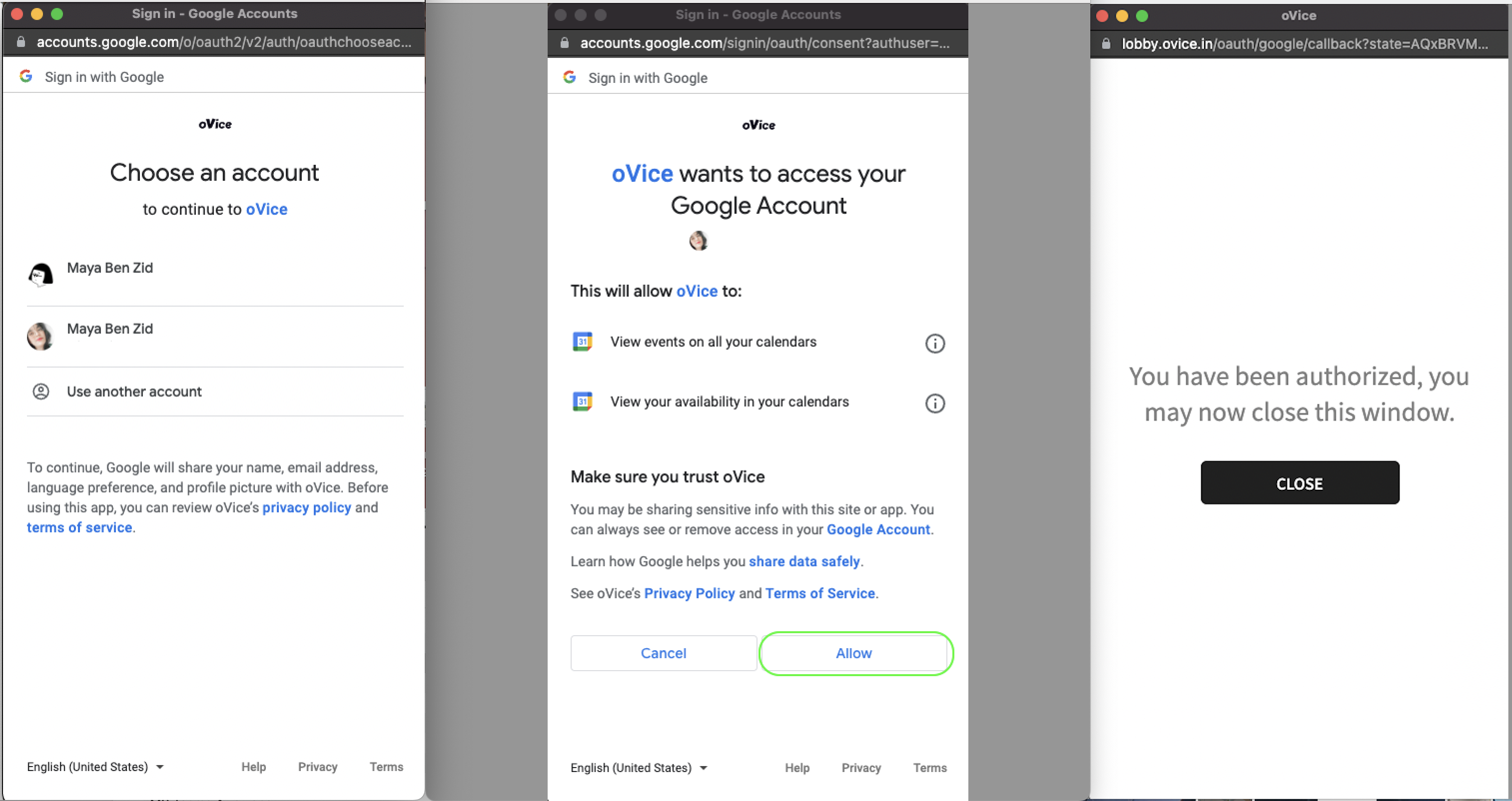 Managing Your Connection
To disconnect your oVice account from your Google Workspace Calendar account, click the Disconnect Google Calendar button and click Disconnect.
How Your Google Workspace Calendar Statuses are Displayed in oVice
Your status on your Google Calendar will be updated on oVice via the avatar emoji badge as follows:
| | |
| --- | --- |
| Google Calendar | Office |
| Available | * If pictograms are set, pictograms will be displayed. |
| Scheduled | |
Google Workspace Calendar FAQs
Q. Can the admin set up a Google calendar for all the space members?
A. No, each user needs to set up the Google calendar individually.
Q. I don't have the option to integrate Google calendar with oVice…
A. Make sure that you're logged in with your registered oVice account to see the Google calendar option. Login URL: https://app.ovice.in/login
Q. I don't want to display the icon although I registered a schedule in Google calendar
A. By selecting 'Free' on the Google calendar, the icon won't be displayed on oVice (Attached file 2)
Q. Can admin turn off this feature in the space?
A. No, they can't
Q. I got an invitation to schedule on Google calendar, but i haven't responded yet
A. The schedule will be displayed on oVice too even if you haven't responded yet
Q. Can 1 google account be connected to more than 2 users?
A. No, it can't. The last user who set will be linked.
Q. Does oVice get details of schedules?
A. No. What we get is only whether users have schedules on the week from today. We don't get any information about titles, descriptions or attendees.
Q. What kind of information does oVice store in the server?
A. We store the following information only:
User identifier
access_token
Scheduled start and finish time (This will be deleted 1 min after updated the icon on the space)
Q. What do I need to approve on Google side?
A. Approve the following to enable the integration:
calendar.events.readonly
calendar.freebusy
userinfo.email
Q. How often does oVice update the status?
A. We receive a notification every time there is a change in Google calendar.