Why Register for an oVice User Account?
All space Members and Admins must be registered users. Signing up as a registered user (whether your role is Admin, Member, or registered Visitor) also ensures you'll have correct access to the tools, features, and objects in a space, and that your avatar will display in the space user list even when offline. Non-registered users may not have permissions to access a space or interact with all of the objects and resources in a space, and their settings may not be saved between visits.
If you are part of a team using an oVice space, chances are you've been invited to join as a Member or an Admin - welcome! Follow the steps below to register and gain access as a Member.
How to Register
If you were provided the direct Registration Form link for your team's space, (see the image below) great! If that's not what you see from your invite link, follow the instructions below to get set up. Or, you may simply create an oVice account via https://app.ovice.in/register.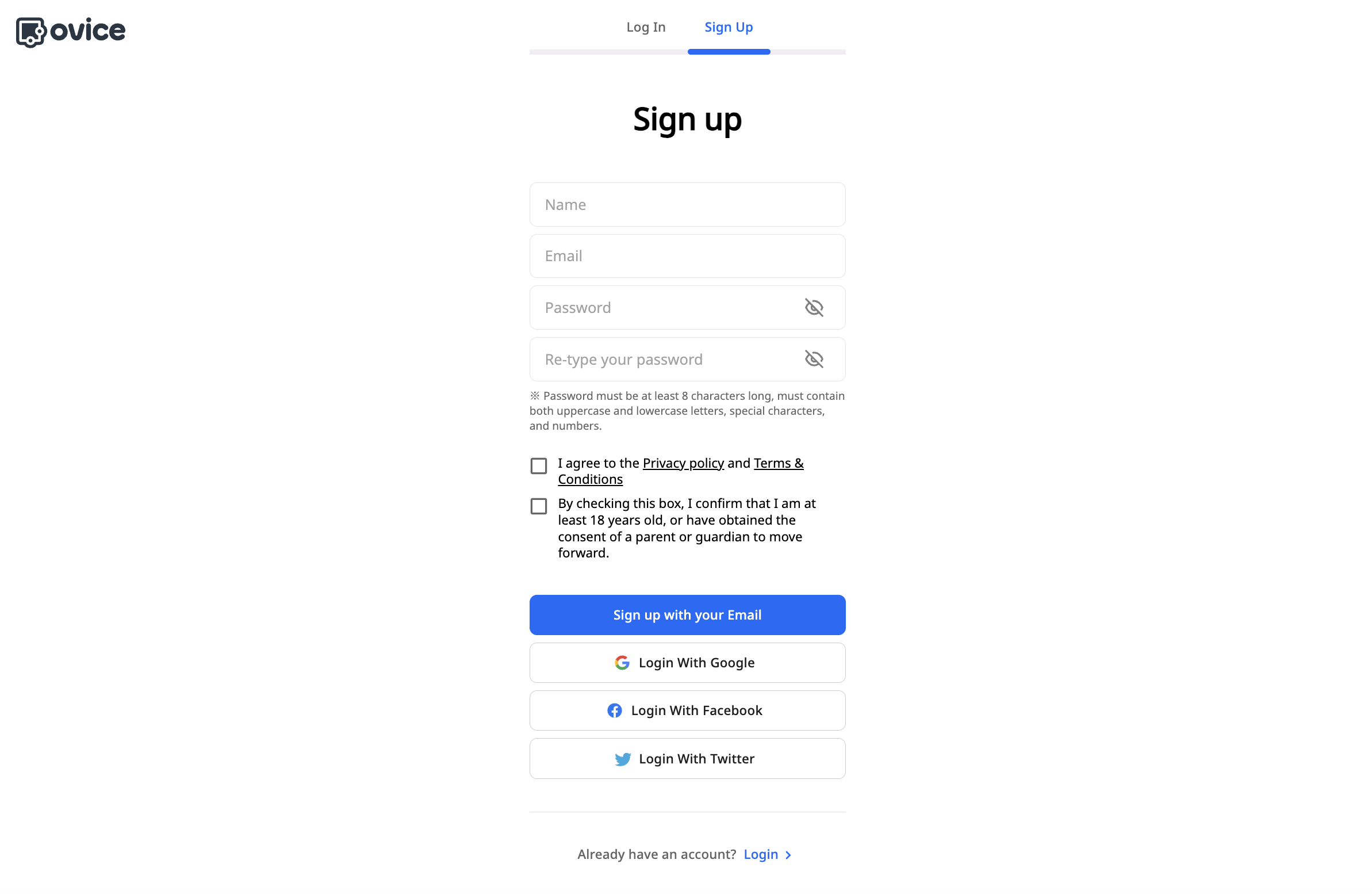 Finding the Registration Form
Your space's main URL directs users to the Lobby. The default access form shown from the Lobby is the Visitor Access Form. If you weren't provided the direct Registration Form link, you may need to click through to reach it.
Our access form that displays from the Lobby has 3 parts:
Guest Access Form
Log In Form for Existing Members
Sign Up Form for New Members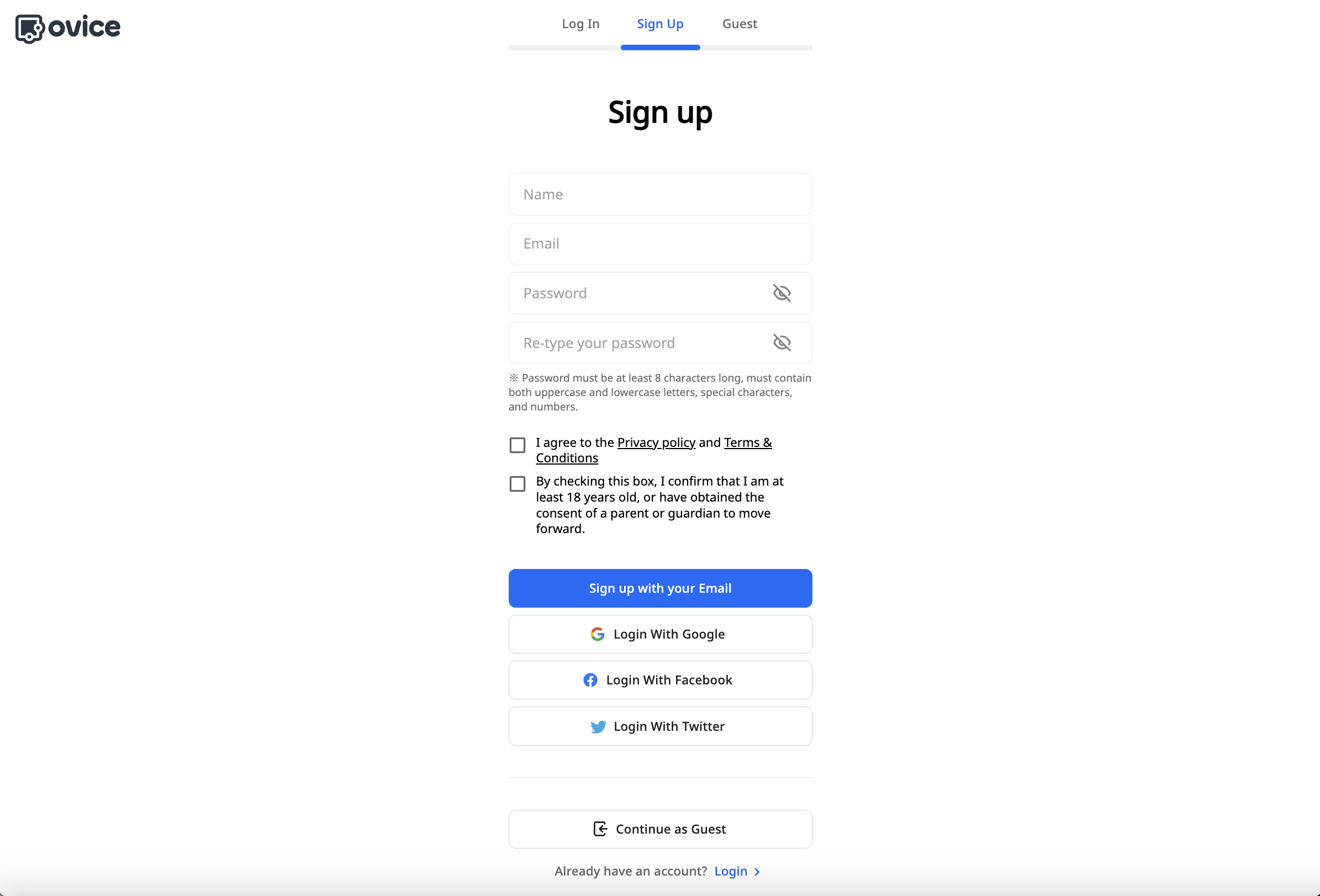 Locate the Registration Form, and complete the fields for your name, email, and password. Click the Terms & Conditions and age verification checkboxes, and hit Register.
Alternately, if you would like to take advantage of our SSO feature and register and log in using a Gmail email account, Facebook, or Twitter account, click your selection at the bottom of the form instead and log in to your linked account.
You'll receive an authentication email from no-reply@mg.ovice.io, with the title Verify Email Address - follow the prompts to verify. If you haven't received the email, you can resend the mail - be sure to check all of your spam or promotions email folders in the event it does not deliver to your inbox.
*The link attached to the email expires in 1 hour.
*If you do not receive the email, please click Resend Email.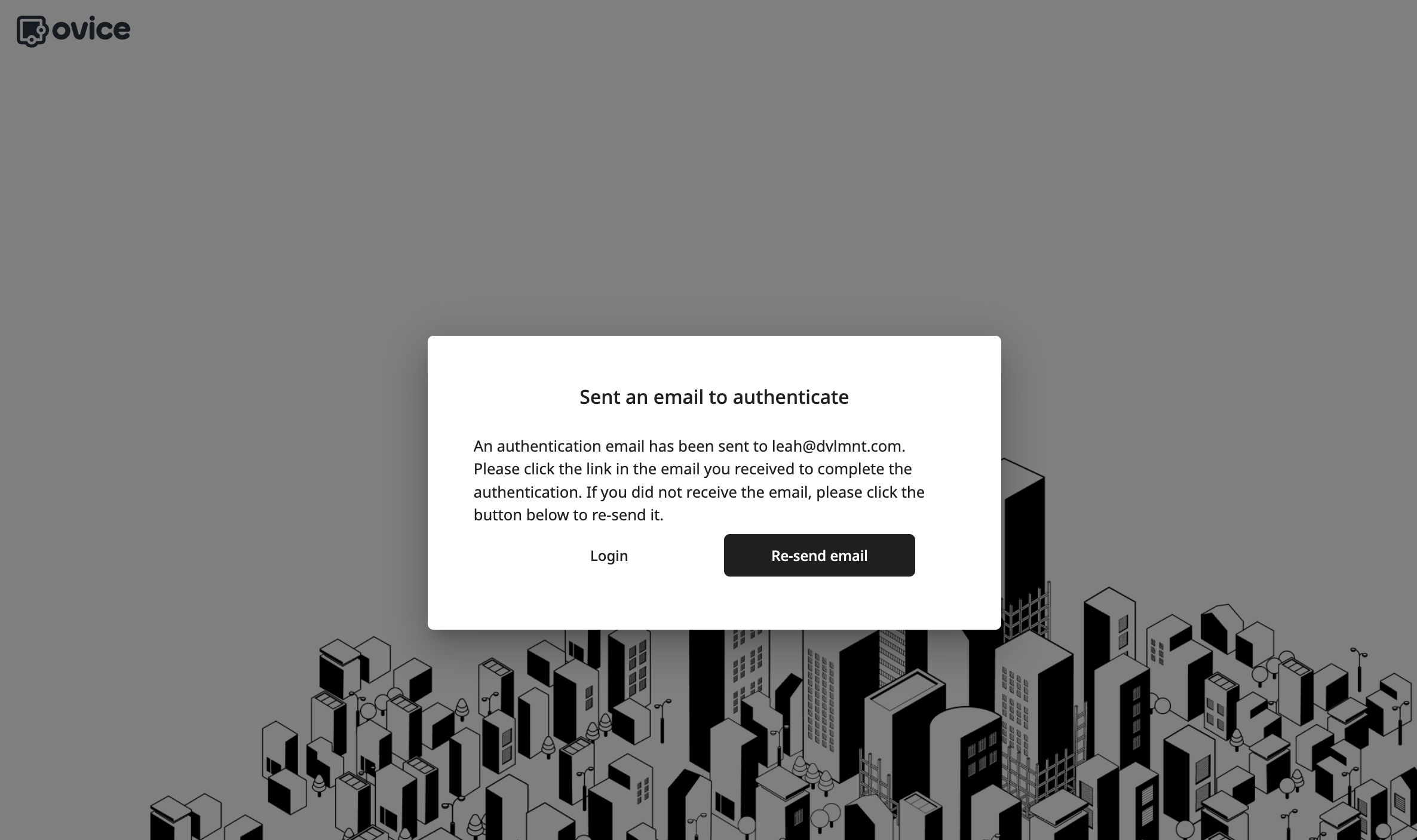 Once verified, enter the domain of the space you want to access and click "Enter space"
 The space domain is the "●●" part of https://●●.ovice.in/.
Check your web browser's site permissions
Set the microphone and speaker
Click Enter
Following Up
Once you're registered, your Space Admin will be able to set your User Role to Member or Admin. Be sure to let them know to go in and update your account!
Your initial user role depends on the space settings. If you don't know your role, please contact your admin.
For all your future visits, remember to Log In to the space to gain full access as a registered user. If you join several different oVice spaces, the Lobby will show you the options to enter in one menu.
Tips
You can also create an account using SSO. (Google, Facebook, Twitter)
When logging in with SSO (SAML authentication, etc.), an account is automatically generated when you log in for the first time, so there is no need to create a separate account. The email address you used when you logged in will be registered as the email address for your ov ice account.
Administrator settings determine which user rights are assigned to you upon access. If you want to check your user permissions, please contact the space administrator.