Sometimes you just have to see it - share your screen in oVice instantly, with no need for outside tools or creating links! Best of all, you can share more than one window at a time (unlike those other guys). Happy sharing!
Meet the Screenshare Object
Screen Sharing is facilitated by the Screen Share Object. Simply open a Screen share Quick Object, and anyone who connects to it will be able to see your shared content.
Screen sharing is also available in meeting rooms.
Start Sharing
1. Launch screen sharing
| | |
| --- | --- |
| For Space | Using Quick Objects |
| For Meeting Rooms | Click the screen sharing button that appears in the menu at the bottom of the screen |

2. Select screen to share
| | |
| --- | --- |
| Whole Screen | The entire device screen |
| Window | Select one of the open windows |
| Tab | Select one of the web browser tabs |
3. Select whether to share system audio
If you check the checkbox displayed at the bottom left of the popup, the audio of the terminal will also be shared.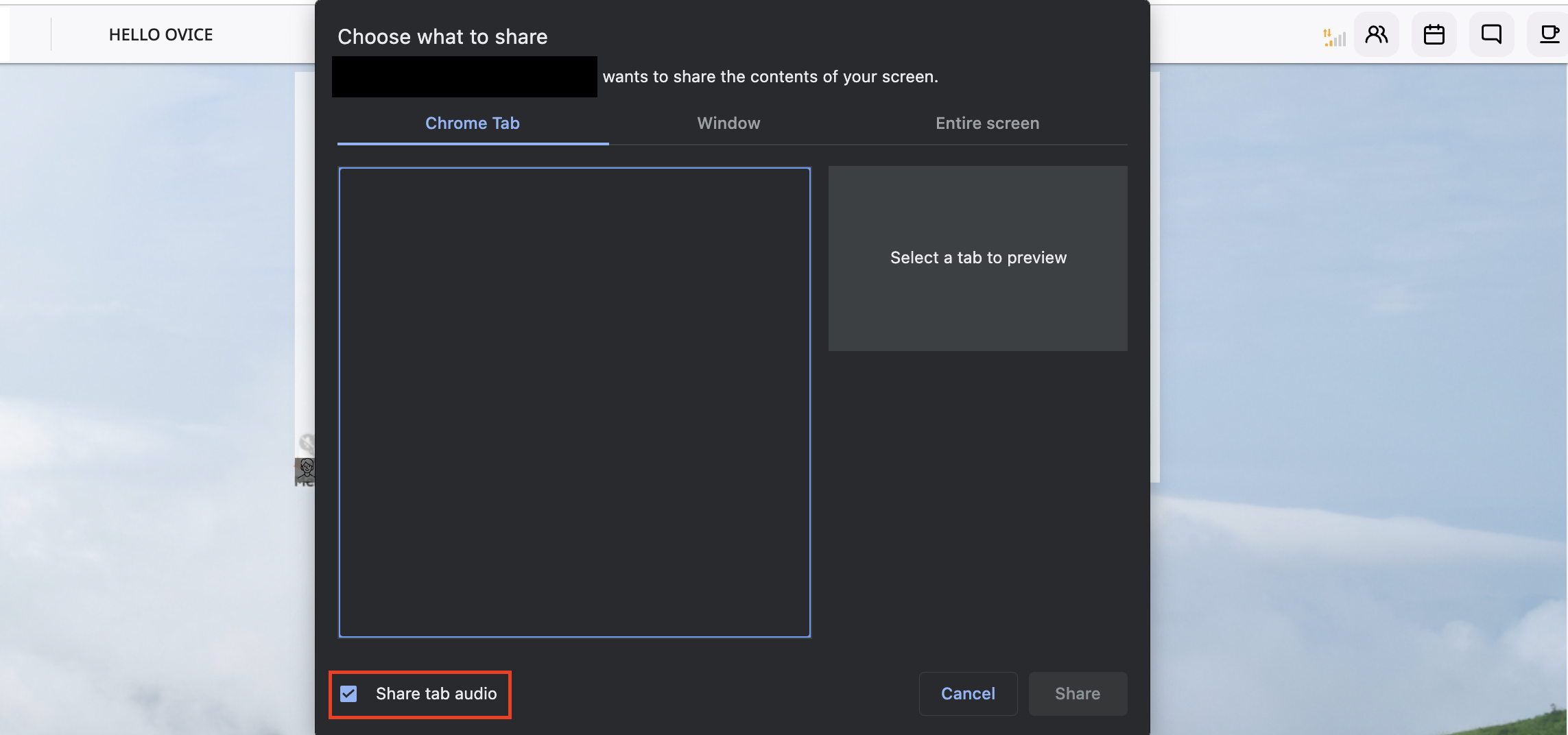 Whether system or tab audio can be shared depends on the OS.
| | | |
| --- | --- | --- |
| Shared Content | Windows | Mac |
| Whole screen | ◯ | ✕ |
| Window | ✕ | ✕ |
| Chrome tab | ◯ | ◯ |
4. Click "Share"
How to Browse
As you approach the scope of the object, a window will launch allowing you to view your screen share. Connect to an object if you want to have a conversation.
Tips
When a user with the microphone turned on double-clicks on the shared screen of the space, the clicked point will be displayed with a red circle on all the user screens that are watching.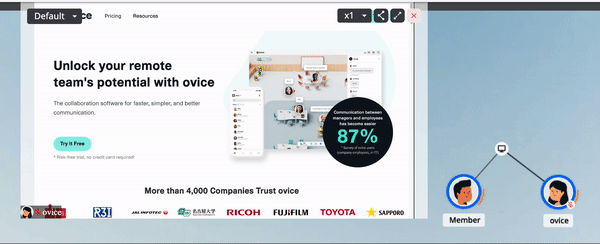 A user connected to a screen sharing object can communicate with other users using a microphone and live avatar. Toggle each one on in the control toolbar as needed.
A single user can launch multiple screen sharing objects at the same time.
Multiple users can launch screen sharing objects at the same time.