User roles that may create or edit the permanent objects in your space may be set in the space settings by an administrator.
Setting Space Customization Permissions
What is a Space Object?
In ovice, the term object refers to an item in the space that performs a specific function that a user may connect to or otherwise engage with. Space Objects specifically are fixed objects placed in the space by the administrator.
How to Add a New Space Object
1. Click the hamburger menu at the top left of the screen, and select the Space tab.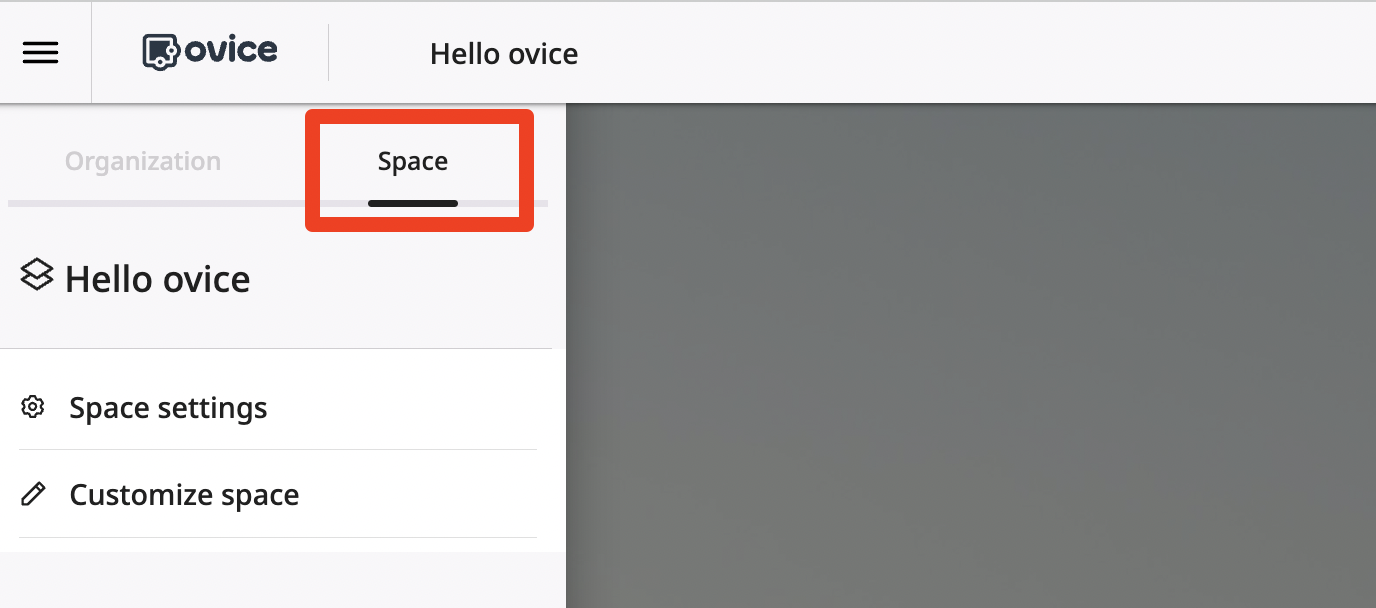 2. Click Customize space → Static Tools and Rooms → Click Add Static Tools/Room

3. Select the type of space object you want to install (ex: Meeting Group, External Embed, Bulletin Board, etc).

4. Drag the object on the editing screen to place it in the space.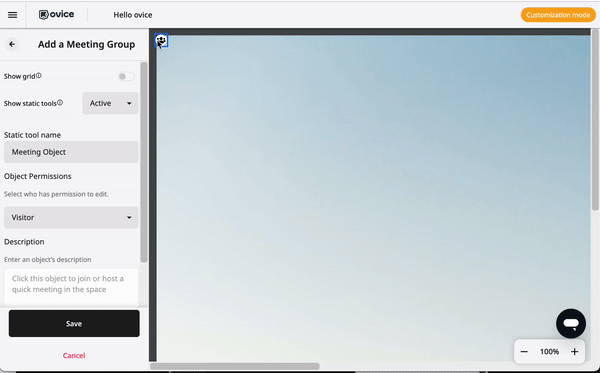 5. Enter a value for the Static tool name
6. Select users you wish to be able to interact with the object from the Object Permissions pull-down list (not required for image space objects).
| | |
| --- | --- |
| Admin | Only admins can connect and edit in spaces |
| Member | Administrators and members can connect and edit on the space |
| Visitor | Administrators, members, and visitors can connect and edit in the space. |
Select the user permissions that will be permitted to connect to and edit objects in the space.
7. Optional: enter a Description ( no settings required for window sockets and image space objects )
This content can be viewed in the space. If you do not add a descriptive text, a default description will be displayed for each object.
Using Space Objects
8. Set up other Objects - see below:
Meeting Object
YouTube Object
iFrame Embedded Object
Bulletin Board Object
Image Space Object
LiveStream Object
Window Socket Object
9. Click Save
Tips
For information on displaying grid and space objects, see below:
Space Customization Settings

When installing a YouTube object, select Embed External Service in step 2 above, and select YouTube as the service to embed.