UI Change for Lower Menu Bar
The user status design has been updated. Also, when switching statuses, the currently selected status is now displayed in an easy-to-understand manner.
status switch

Added Password Setting for Window Socket
Optionally set a password for starting distribution from the distribution device of the window socket.
Installation/distribution of window sockets (beta version)
Tooltip design change for space objects
Changed the design of tooltips displayed on space objects. The following items are displayed respectively.
(1) Type
(2) Name
(3) Description
(4) Accessible user authority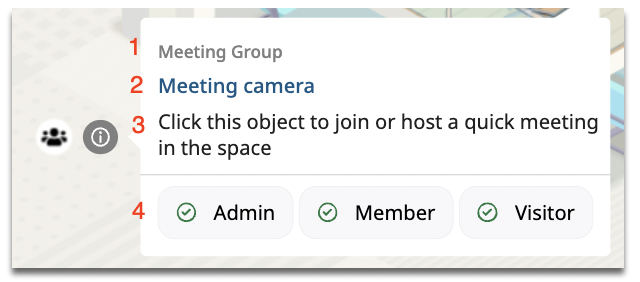 Added error message when uploading virtual backgrounds
When trying to upload an image that has already been uploaded to the virtual background again, the message "Image already exists." is now displayed.
Added 1.5x shared range for objects
You can now select 1.5x in the shared range of space objects and quick objects.