Meeting Room Design Update
The design of the reservation information displayed on the conference room has been updated. Along with this update, a button has been added to get the URL of the conference room.
Meeting room URL acquisition
schedule management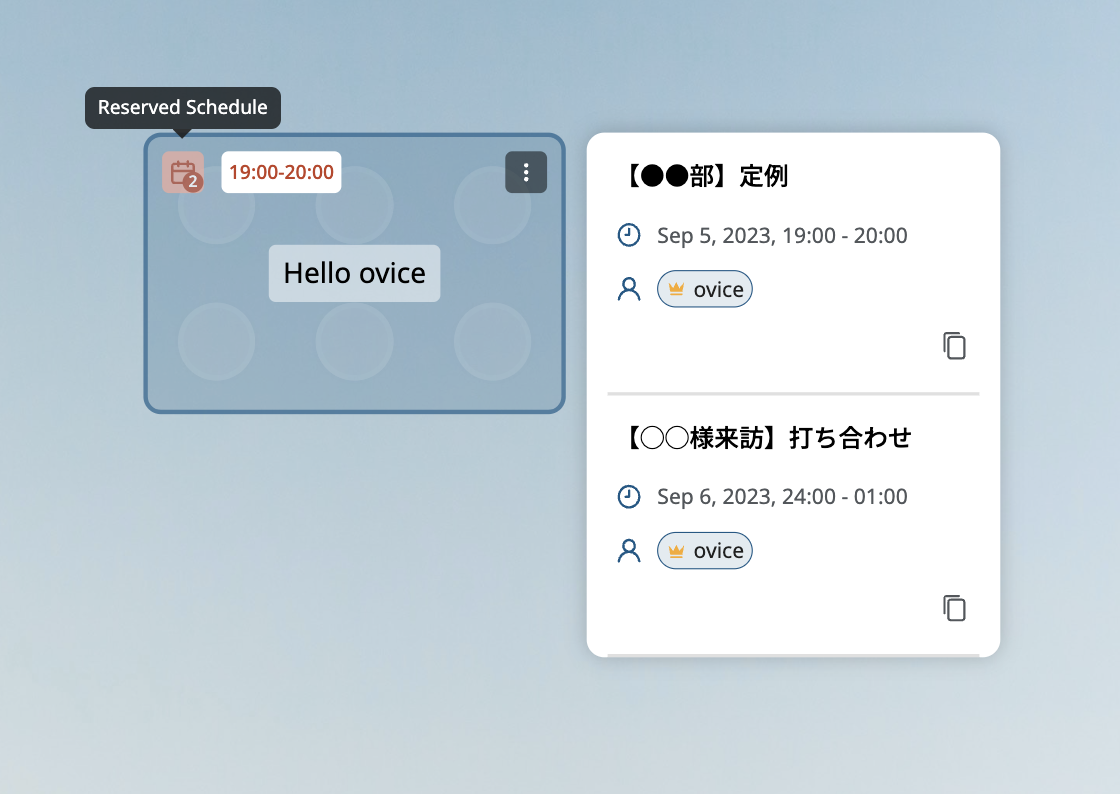 Improved Schedule Management
Even if there are more than 30 conference room reservations, you can now confirm all reservations.
Improved Retention of Direct Message/Mention Chats
Mention chats now persist across reloads of the ovice web browser.
chat
Improved Shoulder Tap Sound Effect
Changed the shoulder tap sound effect to make it less loud than before.
shoulder tap
Change the Voice Range when Using Whisper Function
Slightly increased the range of sound that can be heard when using Whisper, and changed it to an appropriate size for the avatar.
Whisper
Added Error Message when Logging in to SSO Authentication Space
An error message has been added when logging in and accessing a space with SSO authentication set as member access permission by a method other than SSO authentication.
"The corresponding space can only be accessed with SSO login. Please log out once and access again from the SSO login button."
UI/UX Improvement of Organization Space Management
A message is now displayed when adding, editing, or deleting a building is completed.
Improved Notation of Personal Settings and Error Messages
"Time Zone" in profile settings and "Camera Effects" in camera settings have been changed to Japanese for Japanese users.
If a line break is added in "Profile" in the profile settings, the line break will now be reflected when viewing the profile.
Improved the error message when closing the screen without saving on the personal settings screen.
Improved the UI so that the screen switching tab is displayed at the top when opening personal settings on a mobile device.

Improved Access to the Link Destination from the Mention Chat Notification
When you receive a mention chat that includes a URL, you can now access the link by clicking the URL in the notification displayed in the upper right.

Improved to Always Enable Camera/Audio Settings in Window Socket Delivery Device
Until now, the camera/audio settings screen was displayed only when accessing from the distribution device, but now you can set it from the gear button at the bottom of the screen even after the distribution starts.
Installation/delivery of window sockets

Favicon Design Change
Increased the size of the favicon logo displayed in web browsers.
Free Trial UI/UX Improvement
An error message is now displayed when entering an invalid email address in the email address field.

I specified the rules on the password setting screen.