Users with Permissions to Set Up
Microsoft Teams status can now be linked with oVice! Please note:
Only Business/EDU accounts can be synced.
Only registered users in oVice can set up the calendar integration.
If you are a member of multiple spaces, you will need to set up the integration independently on each space
If you want to integrate a different MS account after finished the integration, you will need to delete all Microsoft cookies in your browser, and then re-set up the new MS account
Connect MS Teams to Your oVice User Account
Log into your oVice space with a registered account [Registration URL: https://app.ovice.in/register]
Click on your avatar or on the settings gear in the bottom horizontal menu bar to access your Personal Settings, and click on the Integrations Tab.
Click on Connect Microsoft Teams
4. The Microsoft login window will pop up. Sign in to your Microsoft account. When successful, an authentication message will display. Click CLOSE to finish.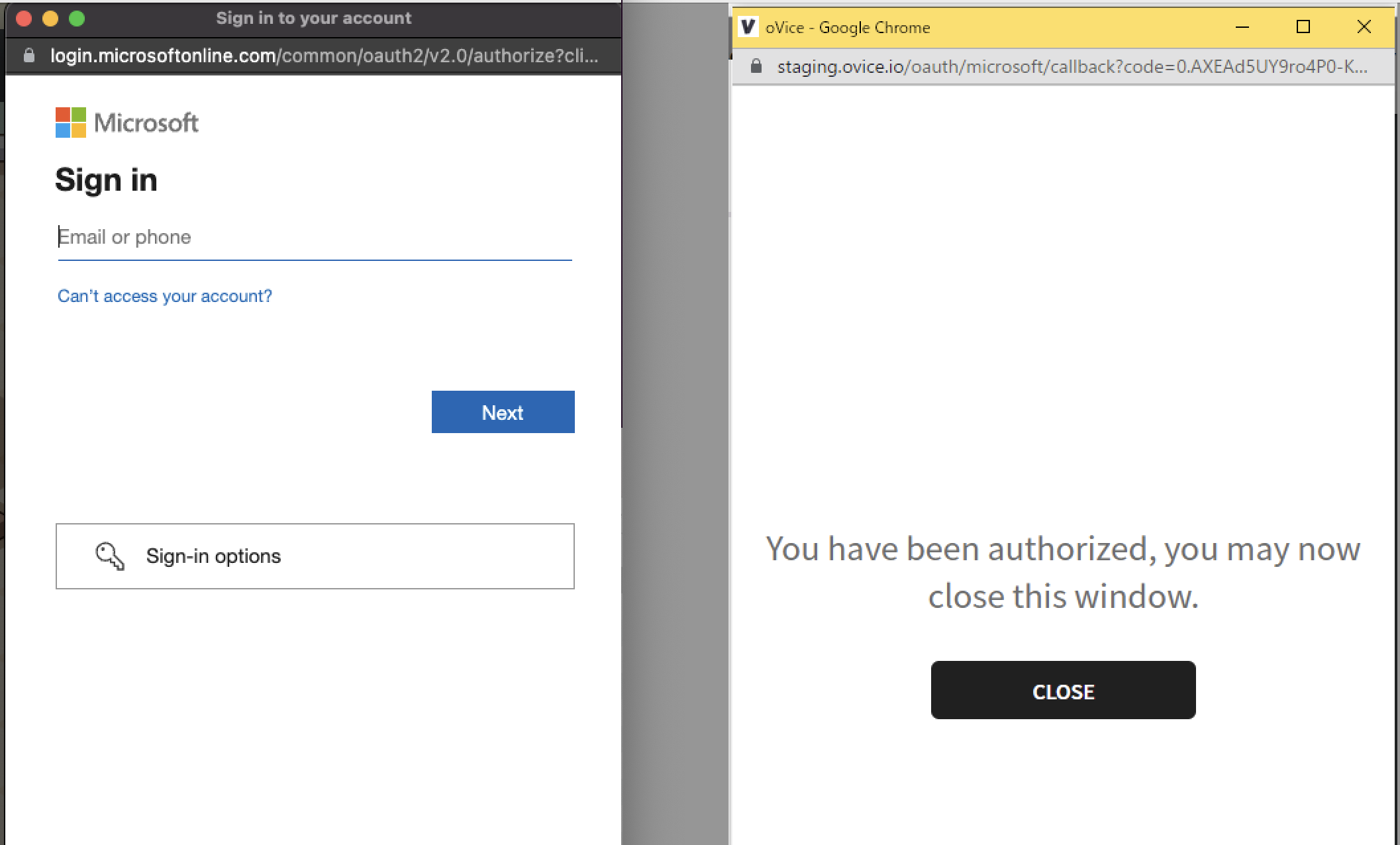 Managing Your Connection
Once connected, you can switch the status toggle on/off as needed.

To disconnect your oVice account from your MS Teams account, click Sign out of Microsoft Teams, and select Disconnect.


How Your MS Teams Statuses are Displayed in oVice
Your status on Microsoft Teams will be updated on oVice via the avatar emoji badge as follows:
| | | |
| --- | --- | --- |
| status | Microsoft Teams | ovice |
| Available | Available | Emoticons are displayed if emojis are set . |
| Busy | Busy | |
| Do Not Disturb | Do Not Disturb | |
| Be Right Back | Be Right Back | |
| Away | Away | |
| Off-Line | Off-Line | |
| In a Meeting | In a Meeting | |
Microsoft Teams FAQs
Q. Can the admin set up a Microsoft Teams calendar for all the space members?
A. No, each user needs to set up the Microsoft Teams calendar individually.
Q. I don't have the option to integrate Microsoft Teams calendar with oVice…
A. Make sure that you're logged in with your registered oVice account to see the Microsoft Teams calendar option. Login URL: https://app.ovice.in/login
Q. My Microsoft Teams account refuses to be linked with oVice…
A. Make sure to use a Microsoft Teams business account. (check your contract status with MT)
Q Can admin turn off this feature in the space?
A. No they can't
Q. I've already set up emoji icon, can I let Teams status be displayed as well?
A. Yes you can. Emoji will display only when the the status is available or offline
Q. 'Need admin approval' is displayed when trying to integrate
A. The message is due to the user management in MS console. Check here: https://learn.microsoft.com/en-us/azure/active-directory/manage-apps/configure-admin-consent-workflow
Q. What information does oVice store on the server through this feature?
A. oVice stores only the following:
User ID
Access_token
refresh_token
Q. What do I need to approve in MS side?
A. Approve the following to enable the integration:
presence.read.all
offline_access
openid and email