Use the Camera Quick Object to share from your own camera only - this is a helpful tool when you are presenting a live demonstration, speech, lecture, performance, etc. and want to put the focus on yourself as the presenter.
Interact with a Camera Dynamic Object
Camera Dynamic Objects are always Dynamic (users may create their own temporary Camera Object from the Bottom Horizontal Menu Bar).
To interact with an Object, simply move your Avatar within range (inside the gray proximity circle surrounding the Object).
Once within range of the Object, a window (or Sub-Canvas) will automatically open. Like all Object Sub-Canvas Windows, it may be minimized or maximized, resized (grab and drag any corner), and moved around the screen (click and drag). This is helpful especially when there are several Object windows open at once. Organize them along the side of the space, or wherever is most convenient.
Launch a Camera Quick Object
When you need to share linked content with a teammate in the Workspace, you can create your own Camera Quick Object.
1. Click the + button in the Bottom Horizontal Menu Bar, and select Camera
2. Adjust range settings if desired - for all-space presentation, you may be able to increase to the entire space if your layout and user role permit.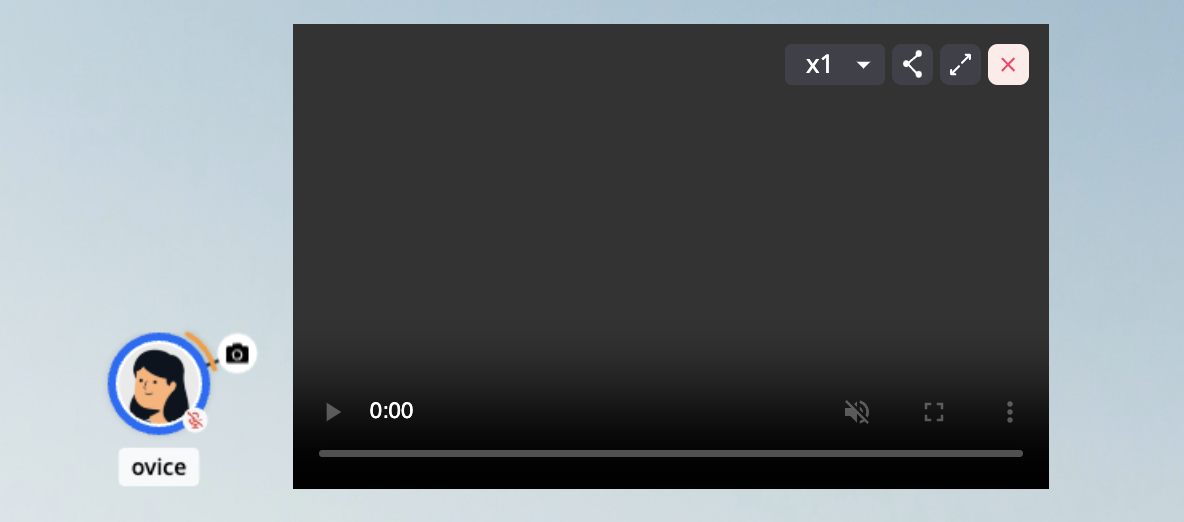 3. Enable the camera on your device.

Any other user in range of the Camera Dynamic Object will be able to view your shared video image, and enjoy optimized audio and video when connected.
Closing the Camera Dynamic Object
Like all Dynamic Object windows, the owner of the Object may close it for all connected users by clicking the red X in the top right of the window. Connected users may click the Leave button at any time to disconnect, or may simply move their Avatars outside of the Object's range.
Tips
Users connected to camera objects can communicate with other users using microphones and live avatars. Toggle each one on in the control toolbar as needed.