You can set notifications and other settings in Space Settings in Personal Settings .
Home Location
By specifying a specific location (home location) in the space in advance, it is possible to start using the space from the home location when accessing the space URL (https://○○.ovice.in/).
How to Do It
1. Move the avatar to the desired position in the space
2. Copy the space URL with x, y coordinates (@x, y) included Example
: https://○○.ovice.in/@1000,700
3. Open Space Settings in the Personal Settings menu
4. Switch Start at a Home Location to ON
5. Paste the URL and click Save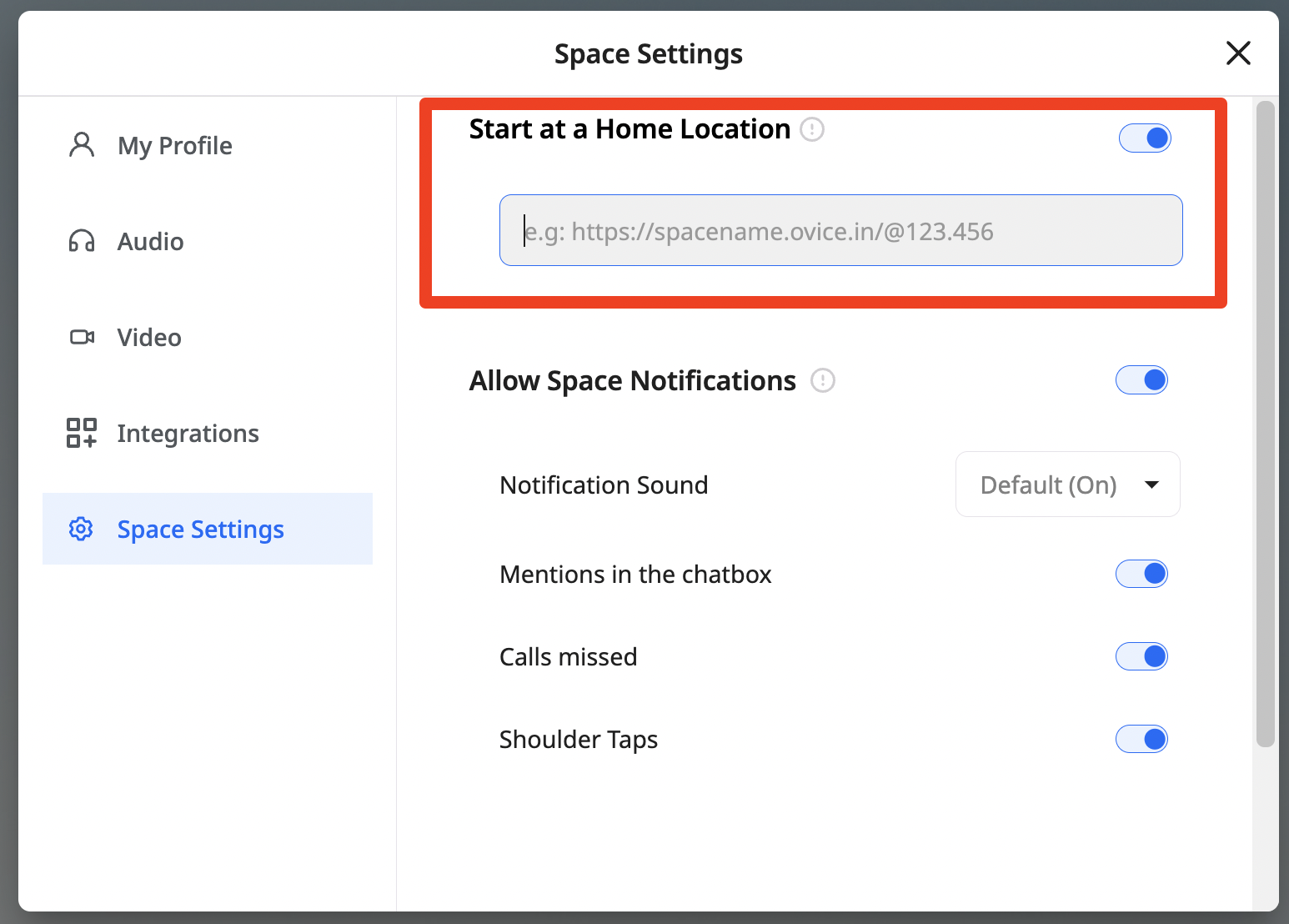 Space Notifications
It is set to on by default.
Allow space notifications

| | |
| --- | --- |
| On | Receive notifications from ovice. |
| Off | Stops all notifications from ovice (OS notifications, notification sounds, pop-up notifications on spaces). Even if you turn it off, you will still see all notifications in Notification Center . |
Notification Sound
Select whether to have notification sound.
Others
Choose whether or not to have pop-up notifications on spaces. When set to ON, the following pop-up will be displayed for a certain period of time. (It will not be displayed if you are in the conference room.)
Mention Chat
Missed Call
Shoulder Tap

Other Settings
Always Show MenuBar in Workspace
| | |
| --- | --- |
| On | Always show the control toolbar at the bottom center of the screen. |
| Off | If the mouse operation on the space is not confirmed, the control toolbar at the bottom center of the screen will disappear after a few seconds. It will be displayed again when you perform mouse operation on the space. |