If you prefer a Zoom call to the in-app Meeting Camera feature, you do have the option to open the Zoom Dynamic Object. While it does require opening a separate app window and link sharing to participants, this feature is handy for including others outside the workspace that you prefer not to invite to your oVice space.
Creating a New Zoom Dynamic Object
Click the + button in the Bottom Horizontal Menu Bar, and select Zoom.
A new Zoom tab will open in your browser, requesting to allow the Zoom app to launch. Allow, and a new Zoom meeting window will be created.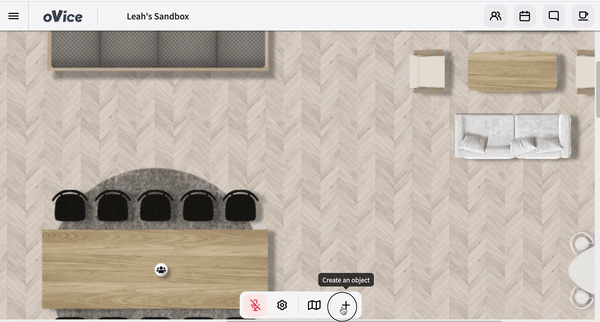 When you return to the oVice space tab, you'll be provided the link to share to join. Share this link like you would any other Zoom link for others to join, from outside your oVice space.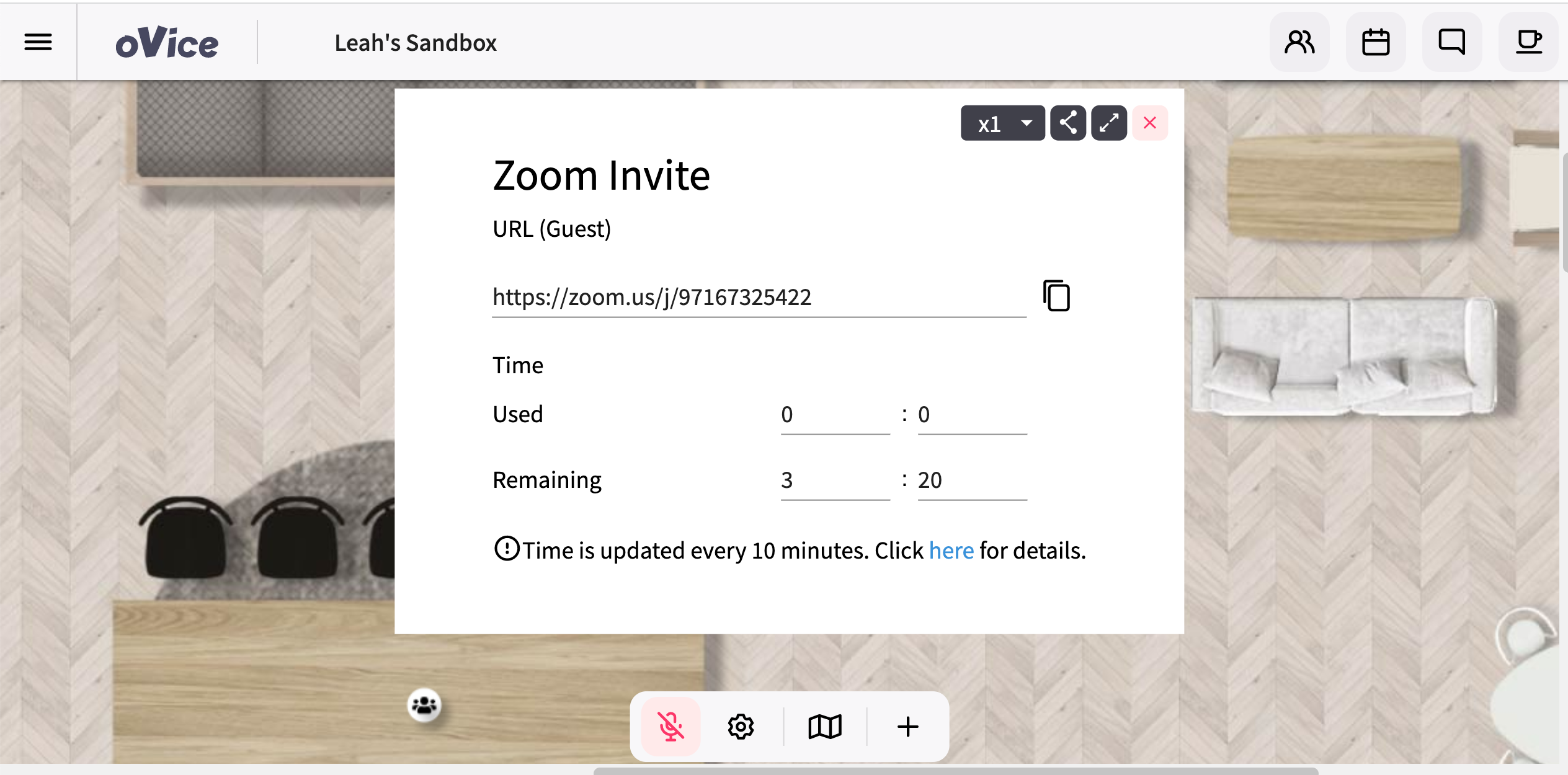 Note: when the Zoom object is activated, your microphone will be muted and others' sounds will be muted.
Joining the Zoom Dynamic Object Call
Users already in the Workspace may join the Zoom object by clicking on the Zoom Dynamic Object - they'll be prompted to allow the Zoom app window to launch.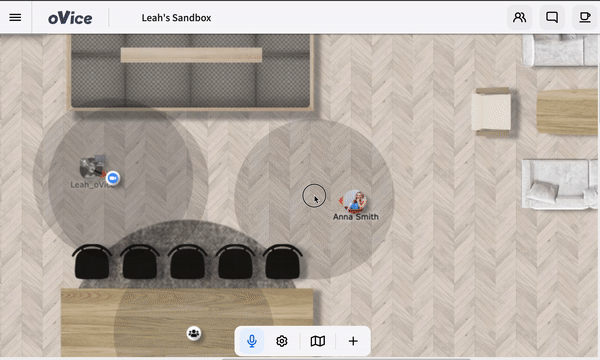 The Avatars of the active Zoom call participants in the space will appear transparent.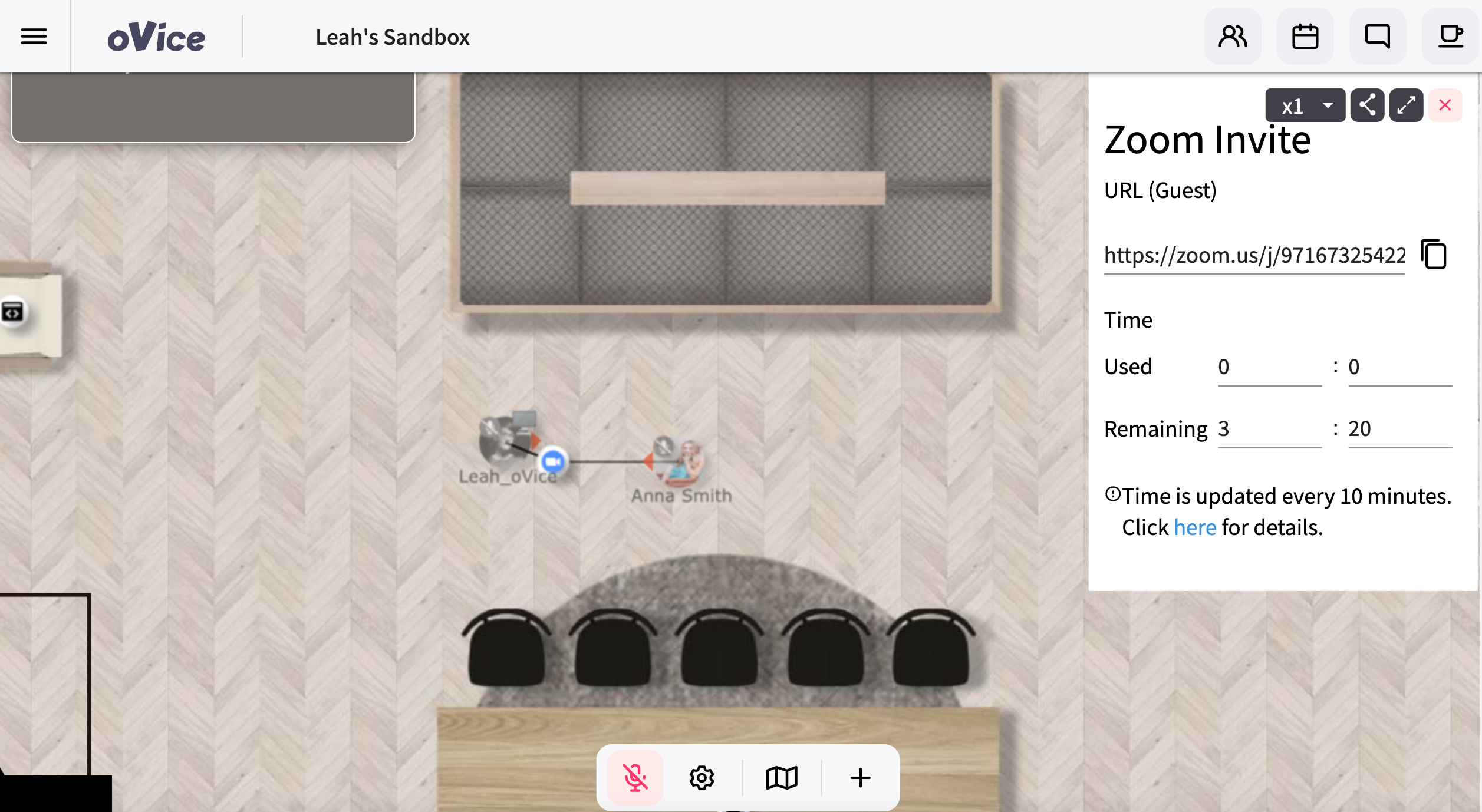 Participants outside the oVice Workspace will need to be provided the Zoom URL link that will be displayed by the Zoom Dynamic Object Sub-Canvas Window. As with any Zoom invitation, those participants will also be asked to allow the Zoom app to launch from their preferred browser. They will not access the oVice space.
Note: Currently, the Zoom integrated account is owned by oVice. There is a 200-user limit per Zoom call. We do not currently integrate users' Zoom accounts with the platform.
The counting will be reset at 9am on Sunday.
The counting will be reset at 9am on Sunday

You can check how long the time remain & how long the time you consumed by creating Zoom object

Any voices won't reach users connecting to Zoom object but sounds of reactions and YouTube

You can't make a breakout room on Zoom if you create the zoom meeting via oVice

Once closed the zoom object, the invitation link will be invalid

The user name at the time you accessed the zoom meeting for the first time via oVice is going to be your user name on Zoom side