Access posted Livestream links - great for live events and meetings - right from inside your oVice space! Livestreams are always Static Objects, that have been placed in the space by an Admin or allowed Member.
Interacting With a LiveStream Static Object
Get in range - you'll want to put your Avatar within the proximity range of the Object. Once in range, a shared window will appear.
Click to connect - click the blue JOIN button on the top right of the window. You should see a line connecting your Avatar to the Object.
A LiveStream shared window behaves like other Object Windows in the space: it may be minimized or maximized, resized (grab and drag any corner), and moved around the screen (click and drag). This is helpful especially when there are several windows open at once. Organize them along the side of the space, or wherever is most convenient.
An object that publishes a distribution link and performs live distribution on the space from the outside. Only available for space objects.
Setting Up a LiveStream Object
1. An administrator (or member*) connects to a space object
*It must be set so that members can customize space objects.
Space customization permission
2. Click Copy
* The distribution URL will be copied to the clipboard.

3. Share the distribution URL to the distributor
4. Distributor accesses distribution URL
5. The broadcaster sets up the camera and microphone , accesses, and starts broadcasting
* You can also select camera effects .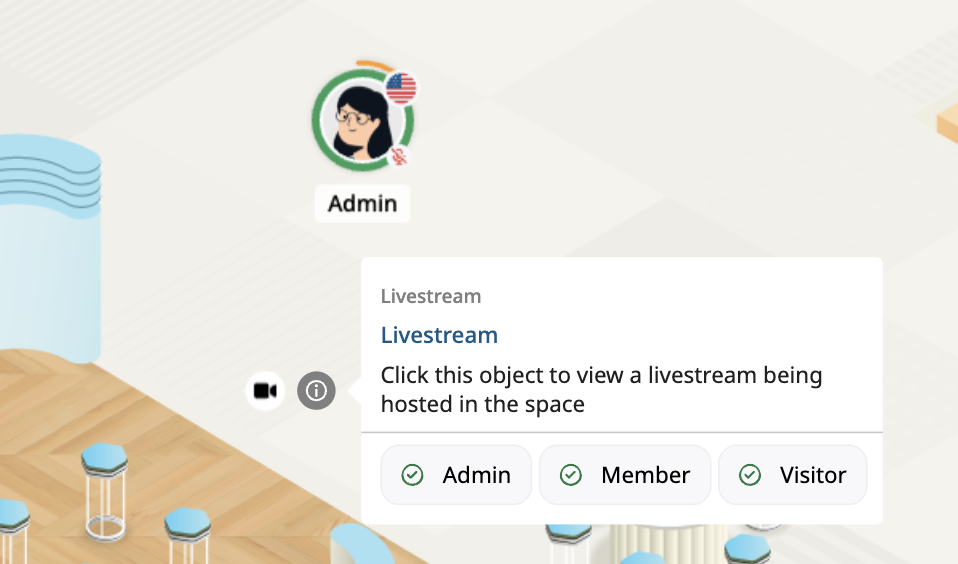 Viewing a LiveStream
As you approach the range of the object, a window will launch allowing you to watch the live stream.
Stop Watching/Disengage from the LiveStream Object
For any viewer, simply click the red LEAVE button on the top right of the window, or move your Avatar out of range of the Object, to close the window.
Tips
The "Copy" button of the invitation link will not be displayed even for visitors who have permission to connect to the space object.
The "Copy" button is not displayed during distribution.
A user connected to a LiveStream object can communicate with other users using a microphone and live avatar. Toggle each one on in the control toolbar as needed.
When distributing from a smartphone, the following error message may be displayed. See the article below.
It says it's not compatible with my current browser
Broadcasters can turn the camera and microphone on and off in the menu bar at the bottom of the screen.