We offer a variety of plan options to fit any team's size and budget. Small to Enterprise, weekly to annual, we can work with you to get you going on your oVice space ASAP!
The Free trial
We offer a no-obligation, 2-week free trial period to take oVice for a test drive. Choose any size you like, and see what you think. Here are a few great reasons to start a Trial account today:
No credit card required
Trial spaces include most features
Invite as many users to test with you as you like
1:1 onboarding calls are available to get you going FAST
Our exceptional customer support team is behind you every step of the way
Seamlessly update in-app to a paid plan - keep going where your trial left off!
Our Subscription Options
We currently offer 4 different pricing plans (from basic to enterprise). Here, we'll walk you through each one and its features: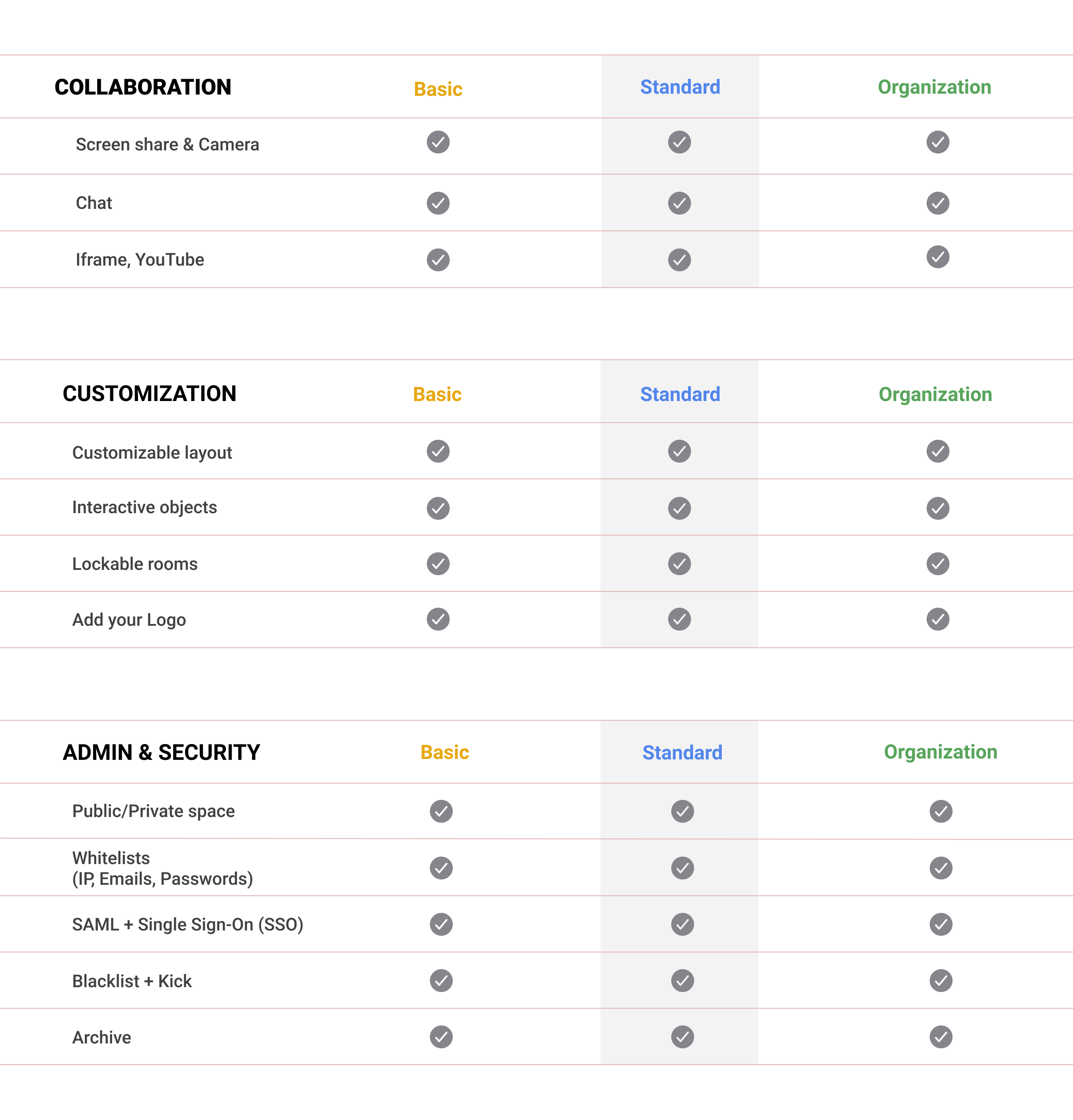 Plan options
Each paid plan comes with a distinct set of features. The price of each plan differs based on the size of the layout and the number of maximum simultaneous connections. Here's a rundown:
Basic Plan
Great for individuals, small teams, or startups just starting to take their business to online.
Costs $50 per month.
Layout size is 1200x640px.
Suitable for 10 to 20 users.
The maximum of simultaneous connections is 50 users.
Standard Plan
This plan is built for teams and companies needing powerful sharing and collaboration tools.
Costs $200 per month.
Layout size is 2400x1280px.
Suitable for 30 to 50 users.
The maximum of simultaneous connections is 200 users.
Organization Plan
For larger teams and businesses who want more control and support.
Costs $500 per month.
Layout size is 4800x2560px.
Suitable for 200 to 300 users.
The maximum of simultaneous connections is 500 users.
Enterprise Plan
If you want to outshine and customize your own oVice space for more than 500 simultaneous connections, you can submit your trial request here. We will get back to you as soon as possible to discuss your specific needs!
Our Contract Options
Enterprise and other highly-customized spaces will be considered on a case-by-case, contractual basis. Regarding the contract term, you can choose the period from 3 months, 6 months, or 12 months. You can also opt for a 30-day free trial and then switch to a 3 months contract, and after that you can go for an annual contract.