Switch the status according to the situation, such as leaving the desk or concentrating on work.
How To Manually Change Your Status
1. Click the Profile Status option from the menu bar at the bottom of the screen.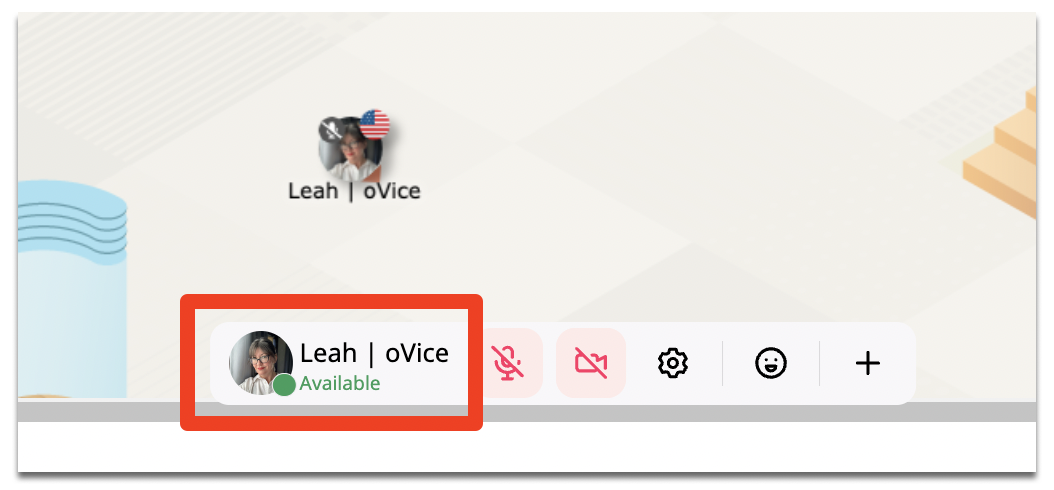 2. Choose a Status from the menu.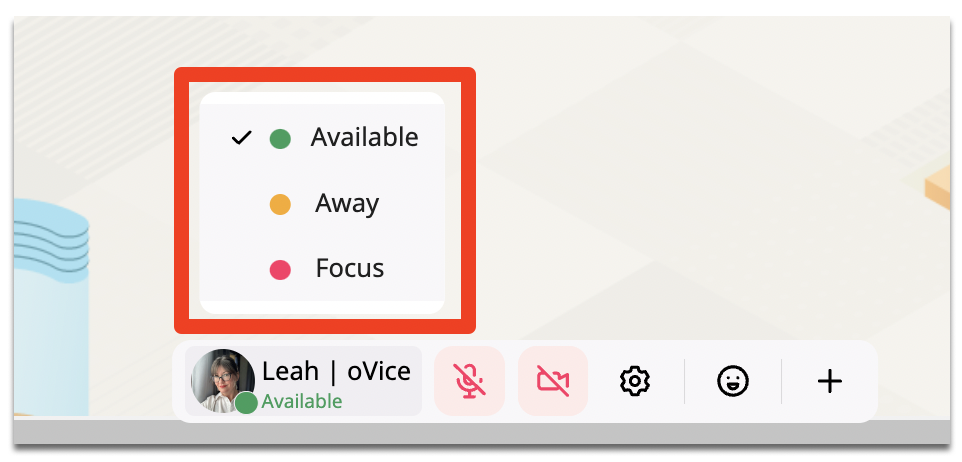 STATUS
EFFECT
WHEN TO USE
APPEARANCE
Available
Able to have 2-way voice conversations in the space
Anytime you're open to collaborate
Away

Avatar disappears from open workspace
Name appears in Away section of user list

Anytime you need to step away from your desk or take a quick break
Focus

Avatar appears translucent
The volume setting in the microphone/speaker settings becomes 0, and sounds in the space cannot be heard .

Anytime you do not wish to be disturbed, or need to do focus work, without having to use a Room.
Take a Break (Away Status)
Choose Away from the Status menu, and click the Take a break button.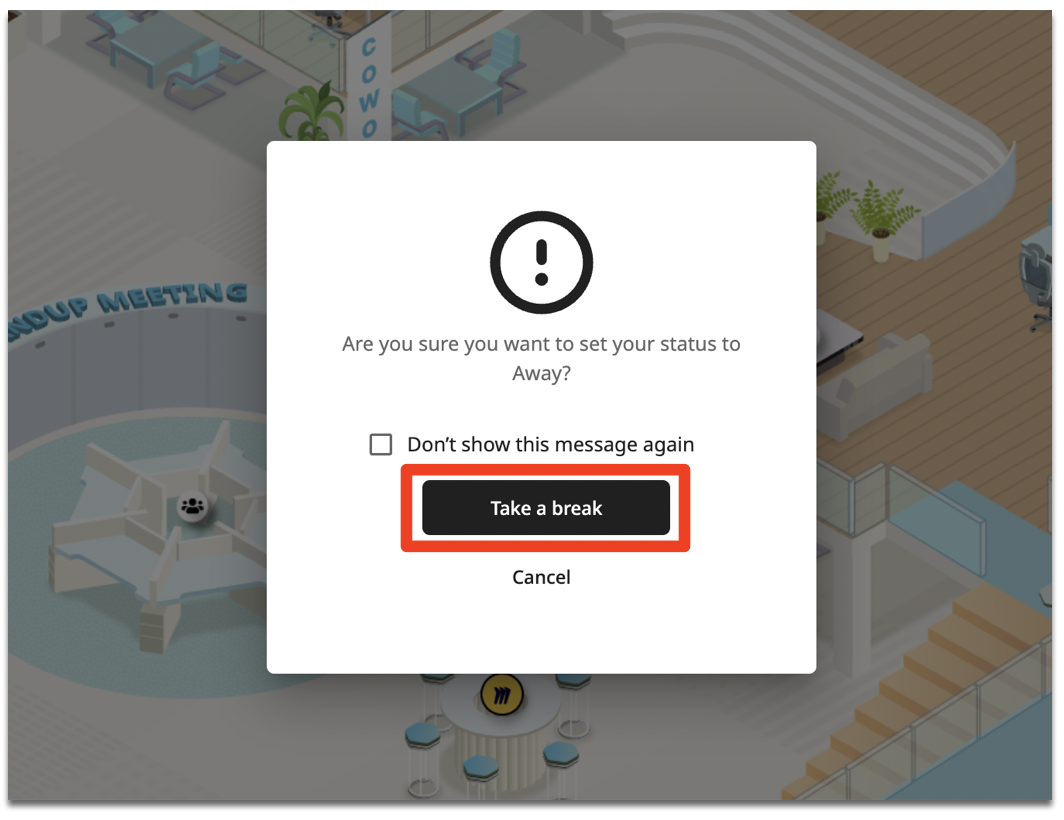 * If you check Don't show this message again, you can switch to the Away status with one click going forward.
Leave a Message
Enter an Away message on the away screen and click Set Your Away Message. Up to 5 memos can be saved. Other users can see the note in the user list .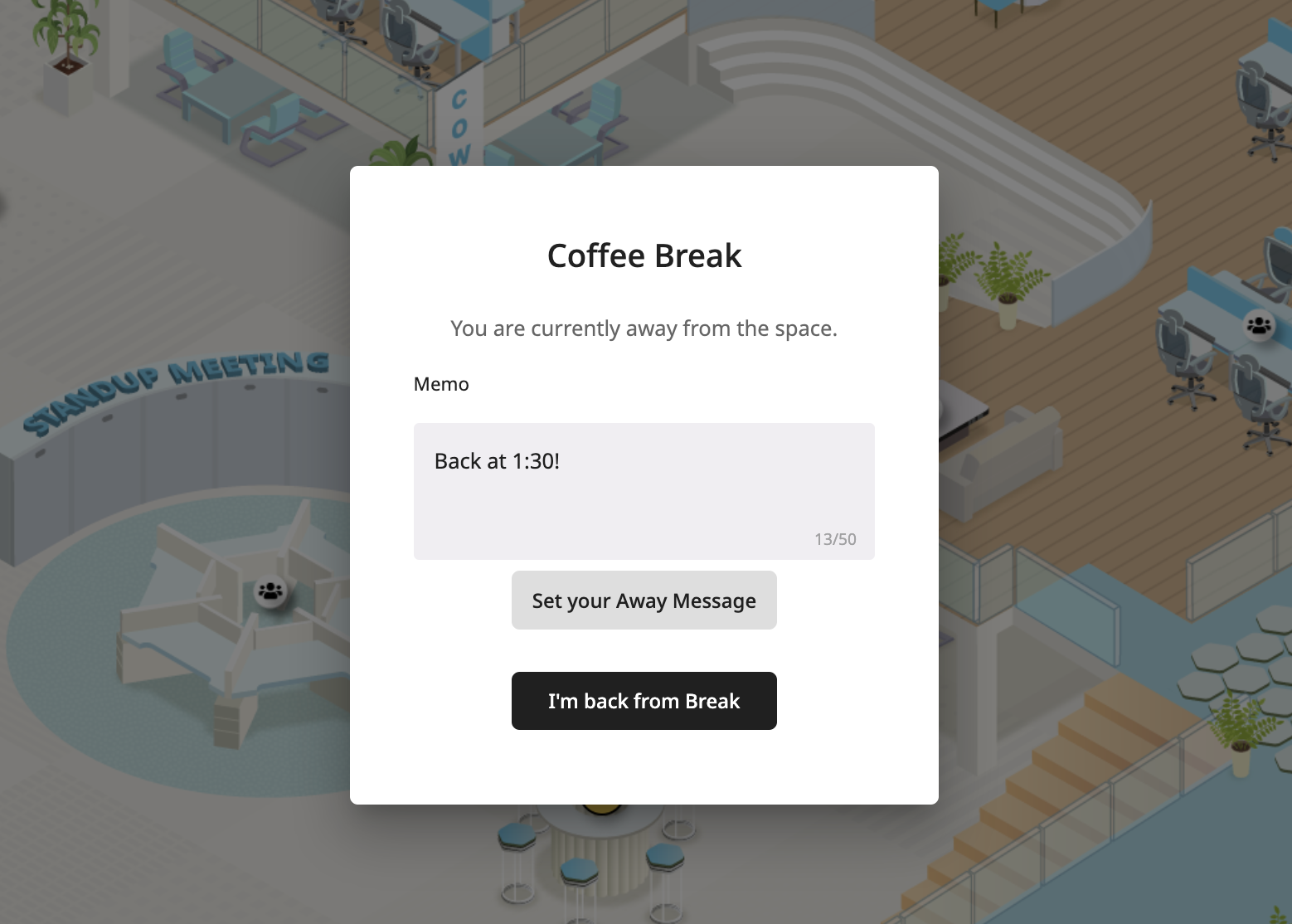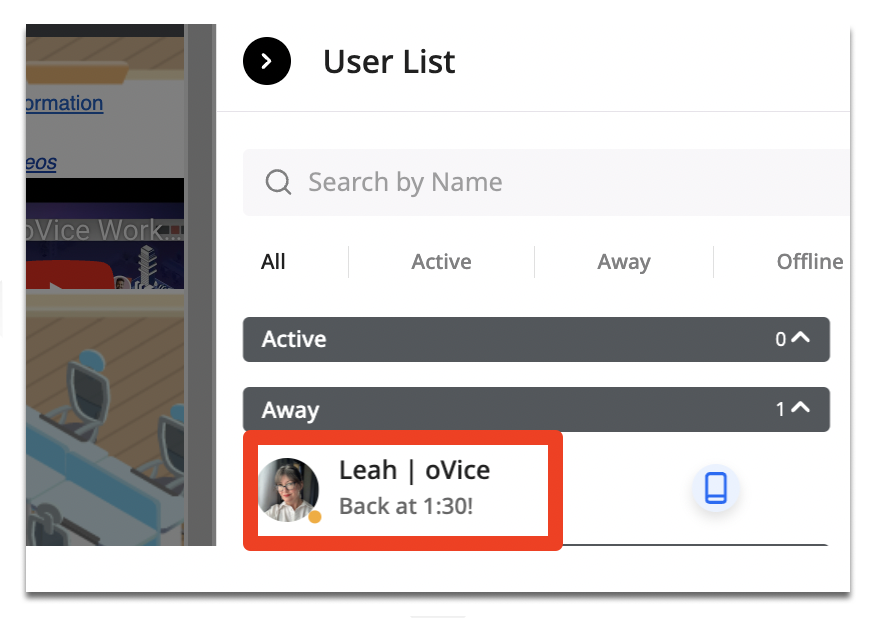 Chat

You can send and receive chats even when you are away from your desk.
Record in User Log
Leaving for a Break (Away) is not recorded in the user log.
Back from Break
If you click Return to Space on the away screen, the status will automatically switch to Available.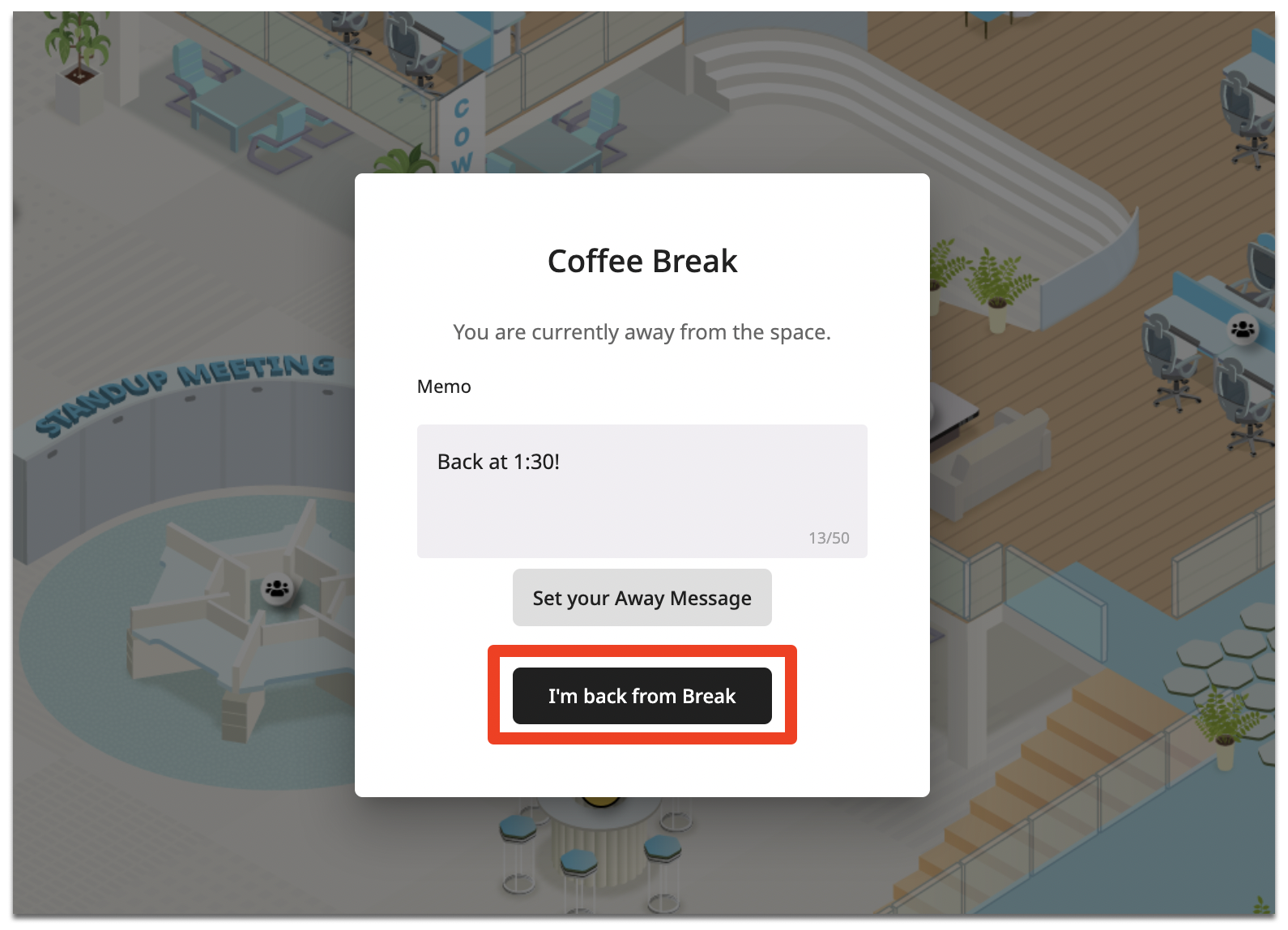 Focus Status
By doing any the following while in Focus status, the status will switch to Available, and you will be able to hear the surrounding sounds.
Switch status to Available
Switch the mic on
Raise the volume in the microphone/speaker settings
Enter a meeting room
Register/Update Status Message
Add a status message to inform other users of the current status in more detail.
1. Click Status from the menu bar at the bottom of the screen

2. Click "Set Status"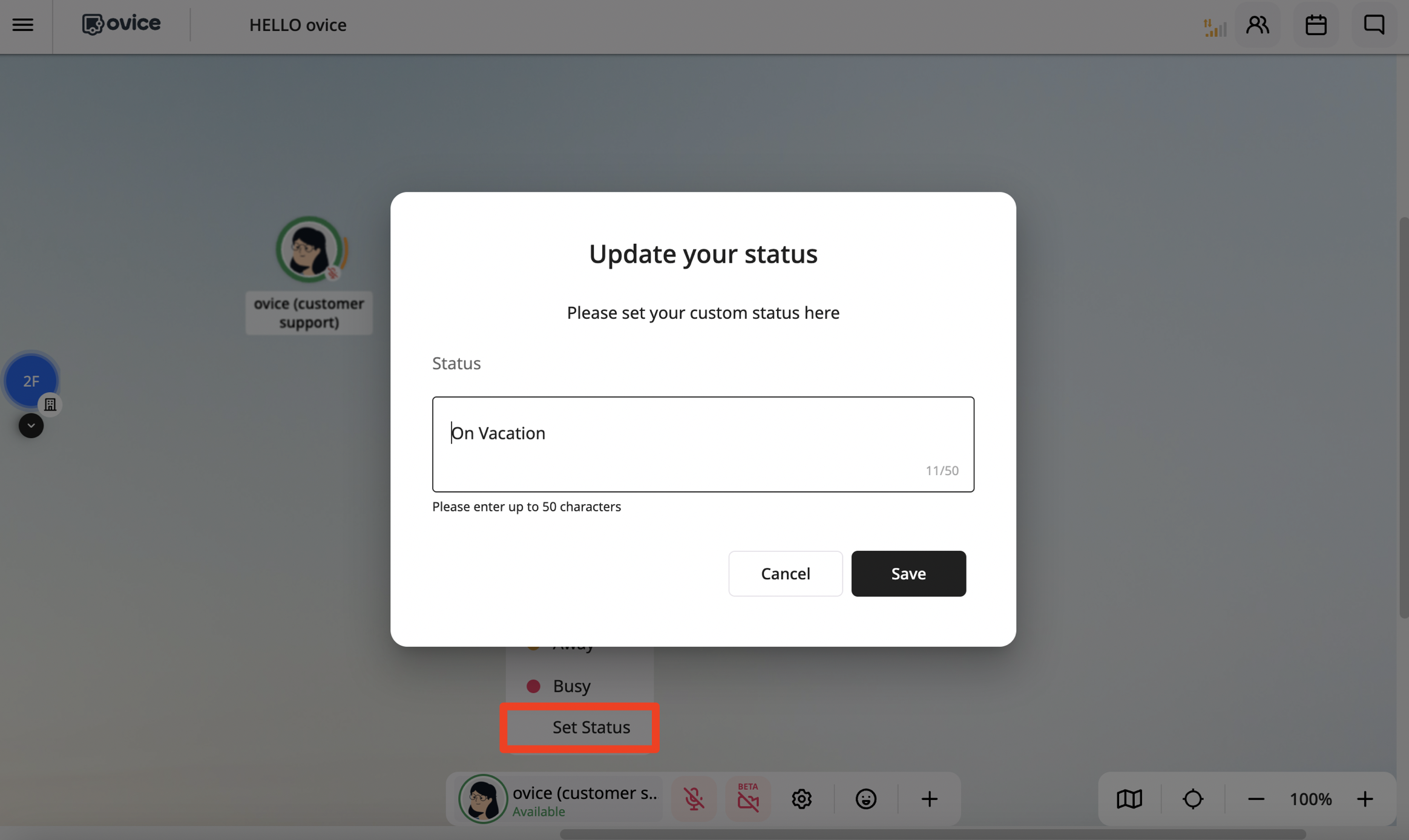 3. Enter the details and click "Save"
If you register a status message, other users can also check the content by following the steps below.
View profile
* Coming soon
Hover over user in space

If no status message is registered, a partial profile will be displayed instead of the message.

Click a space user