Meeting Rooms may be scheduled in advance, to ensure it will be available to you at your planned date and time. This is a great way to manage your team meetings, client meetings, or any other planned conversations that would be better managed in a Meeting Room.
Using the Scheduler for meetings works very well for attendees both within your oVice team, as well as external partners or clients you may not wish to have in your open Workspace. Each scheduled meeting has a unique invitation URL that may be shared with anyone for instant access to the reserved Room at the scheduled day and time.
Accessing Room Reservations
View and Schedule Rooms from the Schedule Pane. To access, click on the Calendar Icon in the Top Horizontal Menu Bar. From the drop-down, you can filter the listings by Room.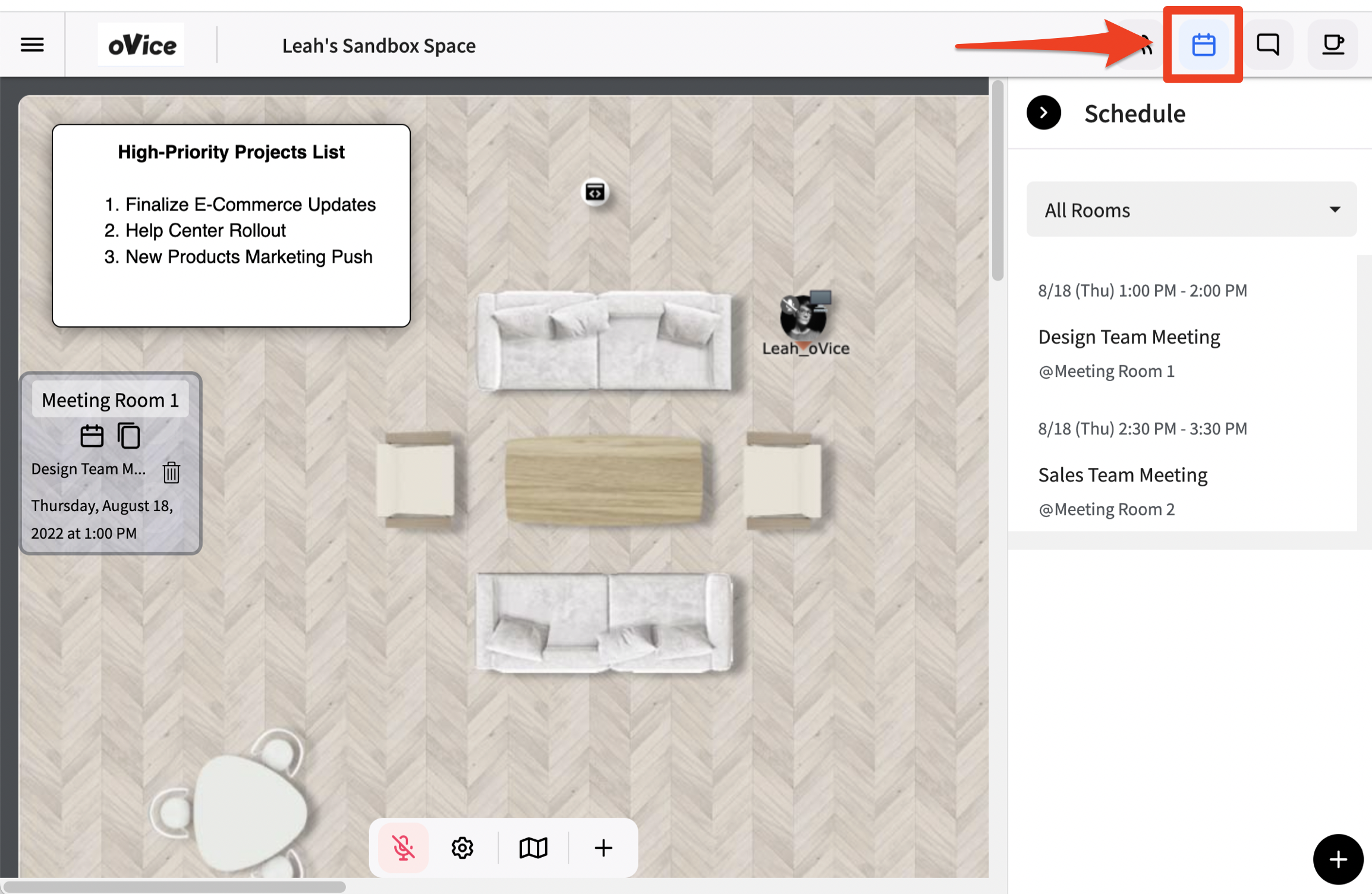 Create a New Room Reservation
From the Schedule Pane, click the + button.
Complete the Form to give your Meeting a Name, choose a Room, Date, and Times.
Click Save.

Invite Others to Your Scheduled Meeting
Hover over the saved Room Schedule
Click on the Copy Icon
The Meeting URL will be copied to your clipboard
Share the Meeting URL with Attendees
Shared Meeting URLs will allow any user with the link directly into the designated Meeting Room (not into the open workspace) at the reserved day & time.
Tips
This function is available only for admins and members. Visitors can't access schedule pane, and can't see any schedules in the space.

Yon can edit a schedule by clicking the edit icon , and delete it by the trash icon.

When guests left the room, they'll move to the lobby automatically

If the room is locked or full, you can't access the room via the invitation link
Learn more about open workspace access and User Roles HERE.