oVice has an in-app Chat tool, ideal for quick instant messaging or sharing quick updates, links, or posting emojis! You can start a Chat conversation with any Active or Away users.
Type any message into the chat field without including any @ direct mentions to send a message to the entire workspace team. Use @ mentions for direct individual or group messages.
Send and receive text chats between users in the space. Available users depend on chat permissions set by the administrator.
Access the Chat Pane
Click the chat button at the top right of the screen or press the enter key on your keyboard.

When Accessing Space
Administrator/Member
You can view chats sent in the past 3 months.
Guest
Chats before access are not displayed.
When Entering a Meeting Room
All Users
Every time the last person leaves the room, all public chats sent in that room will be deleted.
If you join a meeting in the middle, you will be able to view the latest 20 public chats that have been sent since the first user joined the meeting.
Send Public Chat
Send a chat that everyone in the space can see.
1. Click the chat button on the top right of the screen

You can also open the chat by pressing the Enter key on your keyboard.
2. Enter your message in the text area and click the send button

Public chats are displayed as speech bubbles to all users in the space.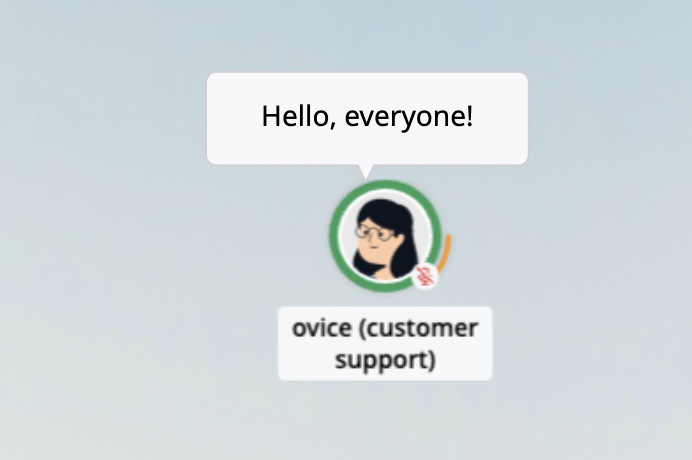 Like a Public Chat
You can "like" a chat by clicking the like icon next to the chat. Click again to cancel. You can check the user name that "liked" by hovering over it.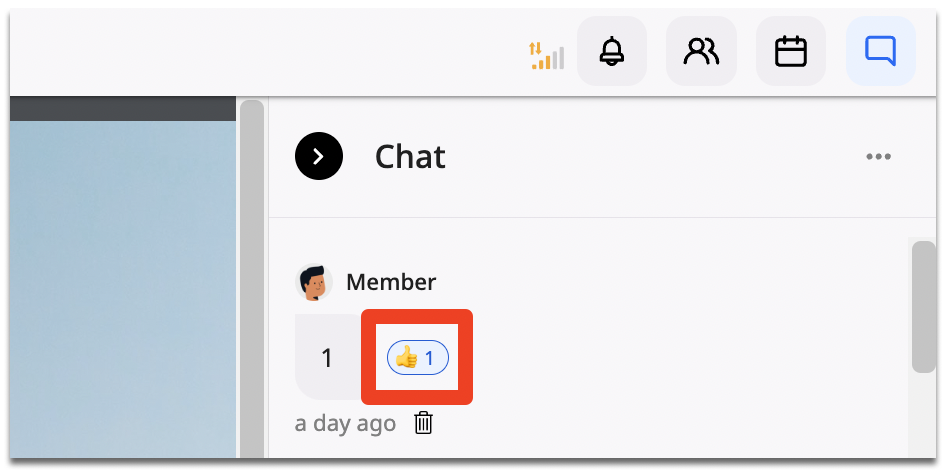 Delete a Chat
Click the trash button to delete your own chats

Admin can delete all the messages in the space

Once you delete a chat, you can't restore it
Depending on the type of chat, follow the steps below to delete it. Chats deleted by these operations cannot be recovered.
Chat type
Permissions that can be removed
How to remove
Chats sent by myself
all users

Hover over the chat you sent and click Trash.

Chats sent by other users
administrator

Hover over the desired chat and click the trash can button.

Bulk delete all chats
Manager/Member

1. Click the three dots on the top right of the chat screen

2. Click "Delete all messages"
Export Chats (CSV output)
Export the currently displayed chat in a space or conference room in CSV format. User permissions that can be exported depend on administrator settings.
Chat export permission
Click "Export to CSV" from the three dots on the upper right corner of the chat screen.

Exportable chat
You can only export what is displayed in your own chat box. Chats that have left the meeting room, reloaded the browser tab, deleted chats, and are not in the chat box cannot be exported.
Tips
See here for mention chats sent to specific users.
Chat (Mention)
User permissions for using the chat function can be changed in the administrator settings.
permission to send chat
You can also send a chat by pressing Ctrl + Enter (Windows) or ⌘ + Enter (Mac) on your keyboard.
You can enter pictograms by clicking the pictogram button.
Data such as images and files cannot be sent.
Visitors and guests will not be able to view chats sent prior to access.
Administrators and members can view chats for the past 3 months when accessing.
If you join the meeting room midway, users with all privileges can view the last 30 chats before joining the room. The public chat will be deleted when everyone leaves the room.
Users who have oviceGo installed can receive chats in the app.
Check/send chat (ovice Go - mobile app)