For more private or focused collaboration sessions, you may want to make use of a Meeting Room or Focus Room. Rooms are created and managed by Space Admins. Each room is either designated as a Meeting Room or a Focus Room, and has a limited occupancy based on its physical size in the space.
About Meeting Rooms
Use Meeting Rooms for collaborative work with others. Inside a Meeting Room, all participants will automatically have the option to make use of their Mic and Camera for voice or video chats, as well as Screenshare.
Meeting Rooms may be scheduled in advance, and users from inside and outside the Space may be invited. Future Reservation information may be posted on the Room itself, as well as listed in the Schedule Pane, to prevent overlap.
Learn more about Meeting Room Scheduling HERE.
Top Use Cases for Meeting Rooms:
small team presentations
client meetings
new hire training
1:1 feedback sessions
event breakout groups
private tutoring
any small group meetings that benefit from a more private, closed space
For additional privacy, you may LOCK the Room behind you. From inside the meeting room, simply click the LOCK button located in the top menu bar as shown below. Other users will not be able to enter the Meeting Room once locked.

About Focus Rooms
Focus Rooms are meant to help facilitate a distraction-free space for users to get independent work done. While more than one user may go inside a Focus Room, there is no option to turn on your mic, camera, or open any Dynamic Objects. The Bottom Horizontal Menu Bar will disappear while inside the Focus Room.
Focus Rooms cannot be reserved, and are available on a first-come, first-served basis.
Top Use Cases for Focus Rooms:
creative work
making sales calls on the phone
technical focus work
meditation break
any individual need to avoid distractions and get things accomplished
How to Enter a Room
For both Meeting Rooms and Focus Rooms, a user may simply click or double-click into an available room. For Meeting Rooms only, upon entry, you'll be asked whether you wish to enter with your mic on or off. Your camera will be off by default, but you'll be able to turn it on if you wish inside the room.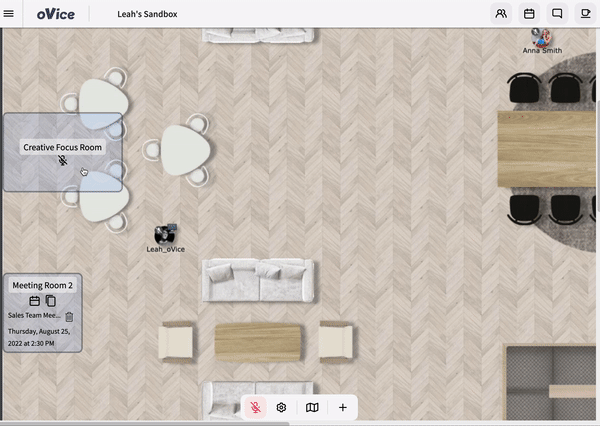 How to Leave a Room
To exit any Room, click the blue Leave Icon that will appear in the Top Horizontal Menu Bar.
For space members, your Avatar will reappear back in the open workspace where it was before entering the Room.
For Guest meeting attendees, leaving the Room will place them back at the Lobby.
Learn more about User Roles HERE.
Tips
Both In a meeting room and a silent room, you can send and receive chats from users in the open workspace.

If the room is already full, you'll see the error message 'This room is full!' and you can't enter the room.

If the room is locked, you'll see the error message 'This room is locked!' and you can't enter the room.